Alumnus Shares His Embry-Riddle Experience
Every new student has a vision in their mind of what college will entail. Alumnus Lonnie Marts was no different on his first day at Embry-Riddle Aeronautical University.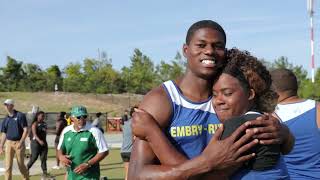 "When I arrived on campus, I was kind of blown away," reminisced Marts. "It was busy and alive with activity and I immediately gelled in with all the buzz and excitement of freshman year."
Originally from Jacksonville, Florida, Marts was recruited for the Daytona Beach campus' track and field team. Not really knowing what to expect, his first week on campus exceeded his expectations in a major way.
"Orientation week blew my mind, and the activities fair was incredible," said Marts. "There were so many different clubs and shared interests among students."
During his first few years at Embry-Riddle, Marts was involved in numerous extracurricular activities, including the Game Development Club, Student Government Association, WIKD, Student Union Advisory Board, Campus Outreach, Fellowship of Christian Athletes, and even Anything Goes Anime Club for a few meetings. However, after two years, he pulled back and focused on the clubs that truly fueled his passion.
As an athlete on the track team, Marts spent a good deal of time on the field. To him, being an athlete is about more than just competitions.
"There's an increased sense of responsibility and discipline," explained Marts. "People know what team you are on. They are watching you and holding you accountable for what you do."
Academically, Marts majored in Human Factors for his undergraduate degree. He found Human Factors interesting because of the creativity involved. Even as a kid, he was always looking for ways to make things easier, safer, and better for people. This coursework has allowed him to refine who he was as an individual and develop how he thought through processes.
"Every situation you approach is dependent on the people involved: where they are at, their culture, how they think," said Marts. "You have to approach every situation or problem from the standpoint of the people you are solving it for."
His experience at Embry-Riddle truly changed Marts in a variety of ways. He's found a new appreciation for diversity and how "differences all interlock to support one another in a mosaic kind of way."
"I've absolutely fallen in love with the people here," reminisced Marts. "If you know what you want to do and you are passionate about doing it, it there is no better place to come than Embry-Riddle."