Master of
Business Administration in Aviation
Created with industry partners, this program is structured to provide a high-reliability organization foundation, a degree-specific core and a choice of certificates.
One of the university's first-ever certificate-based graduate programs, the Master of Business Administration in Aviation (MBAA) degree at Embry-Riddle provides strong foundations for success in any facet of the global aviation business arena and allows students to design an educational path tailored to their unique interests. It provides the traditional business skills of an MBA that are applicable to all industries but is unique in its focus on the aviation and aerospace landscapes.
Crafted with industry partners, the MBAA is uniquely structured to provide a high-reliability organizations (HRO) foundation, a degree-specific core and a certificate of the student's choice. With HRO concepts such as risk management and risk mitigation woven throughout the program, students graduate prepared to succeed in the high-risk and complex environments of today's organizations. In addition to their core classes, students can also dig deeper and explore the topics that excite them most by choosing from a collection of resume-boosting certificates.
Accredited by the Accreditation Council for Business Schools and Programs (ACBSP), the curriculum has been developed and continues to evolve with close attention paid to the demands of the industry. Most of the courses contain a research component that will provide experience and an insider's examination of global business practices.
About Business Administration in Aviation at the Worldwide & Online Campus
Managers need to be able to manage people, market their products or services and know how to finance operations. The Master of Business Administration in Aviation (MBAA) degree provides students the knowledge and skills to perform those tasks, manage functional areas and rise to leadership roles in business. A graduate of the program has all of the opportunities an MBA student enjoys with the added bonus of a competitive edge in a specialized field.
As one of the few schools in the country and elsewhere to have a unifying theme across its graduate degrees, the Worldwide College of Business incorporates HRO concepts such as managing risk and operating with high reliability in industries like aviation, healthcare, business, space operations and more.
Students pursuing the MBAA can start or finish their degree program by earning one of the following resume-boosting certifications:
Business Intelligence and Analytics
Finance
Human Resources
Information Systems Security
Information Technology Management
International Business
Leadership
Marketing
Project Management
The MBAA program is designed to emphasize the application of modern business concepts, methods and tools to the challenges of aviation and business. The special intricacies of aviation are woven into a strong, traditional business foundation by combining a specific core of distinct business competencies with a strong aviation foundation.
Offered through Embry-Riddle's Worldwide Campus, the degree is ideally suited for working professionals, those who travel frequently or anyone who seeks a flexible learning environment. With Embry-Riddle's online educational opportunities, students have the flexibility to learn at a campus near them — or even in their own home.
---
Accreditation Council for Business Schools & Programs accredited degree program
DEGREE REQUIREMENTS
Core/Major
High Reliability Organization

HROM 510

Enterprise Risk Management
3

HROM 520

Organizational Resilience
3

HROM 530

Modeling and Decision-Making
3
Total Credits
9
Business Core

MKTG 510

Economics of Marketing
1.5

MKTG 511

Science of Selling
1.5

MKTG 512

Delivering Customer Solutions
1.5

ACCT 510

Business Accounting
1.5

FINE 518

Corporate Finance
3

OBLD 519

Organizational and Employee Behavior
1.5

HRMD 549

Personnel Management
1.5

BUSW 635

Business Strategy for Managers
3
Total Credits
15
Certificate Option
| | |
| --- | --- |
| Certificate Options: | 12 |
| Choose from Certificates listed: | |
-OR-
Non-Certificate Option
| | |
| --- | --- |
| Non-Certificate Option: | 12 |
| 12 credit hours of non-duplicated COB or other ERAU college graduate courses of student's choice. For courses outside of the COB or transfer credit, Department Chair approval is required. | |
| | |
| --- | --- |
| Total Degree Requirements | 36 |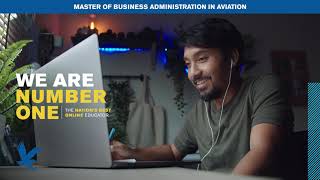 Play Video,
MBAA Asia
Spotlight