Pilots, maintenance technicians, air traffic controllers, aeronautics professionals, and unmanned aircraft operators are all essential positions as the world continues to connect through the miracle of flight.
Since its beginning in 1926, Embry-Riddle has provided the industry with aviation personnel, one student at a time. A pioneer in aviation education, Embry-Riddle is the most highly regarded institution dedicated to the field.
We are the nation's largest, oldest, and most comprehensive aeronautical university. When you enroll in an aviation-related degree program here, you can rest assured you will study a curriculum that is at the forefront of the industry's developments and demands for the future.
Embry-Riddle sets the standards for aviation education and is involved with the formation of national and international aviation policy.
Air Traffic Management students display optimum precision and professionalism and excel in the required post-graduation training at the Federal Aviation Administration (FAA) Academy.
Every student in an aviation curriculum benefits from hands-on learning in new, expertly maintained aircraft equipped with glass cockpits, labs that replicate the nation's airspace, state-of-the-art maintenance and avionics repair facilities, and unrivaled aviation simulation centers.
Students who want the best in aviation education choose the world's best aviation and aerospace university.
At Embry-Riddle, you'll study among fellow students and faculty who share your affinity for aviation. Our students explore all facets of the industry in an atmosphere that fosters success.
Regardless of which aspect of flight you're most interested in, Embry-Riddle offers a degree for you. Our diverse programs span from associate through doctorate degrees and feature a variety of learning environments, ranging from in classroom to online.
Embry-Riddle accommodates full-time students, working professionals, and military personnel.
Explore our programs to find which one suits your interests and goals.
Review our non-credit continuing education offerings at proed.erau.edu.
Boeing forecasts 763,000 new pilot jobs worldwide in the next 20 years. Along with the pilot increase, the company anticipates a need for 739,000 maintenance technicians in the next 20 years.
Increasing global security threats require additional personnel in aviation security. As unmanned aviation expands, demand for professionals is on the rise. It's clear that opportunities abound in the flight industry.
As the number of daily flights throughout the world increases, the need for educated and trained personnel expands in every facet of aviation. This is a growth sector in an age when many sectors of the world's economies are shrinking or shifting. Civilization has become mobile, and there is no expectation for that to decrease.
A degree is an essential stepping stone to reach your aviation-related career goals. As the premier university of aviation and aerospace, Embry-Riddle is positioned to connect you to our network of leading corporate aviation companies, as well as to air carriers throughout the world.

There are more than 150,000 alumni globally who recognize the value you bring from your Embry-Riddle education.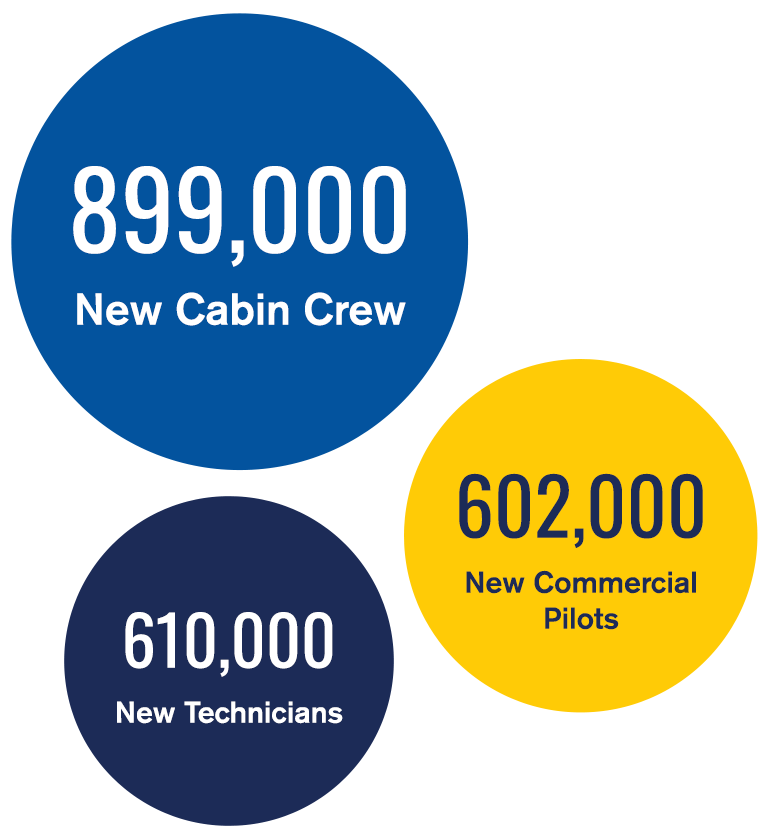 The 2022 Boeing Pilot & Technician Outlook predicts strong growth in the aviation industry through 2041.
Source: The Boeing Company
Our faculty and students are actively involved in aviation-related research. Read about how they're positively impacting the industry in some recent projects below.
Learning Environments
With state-of-the-art labs, advanced flight training devices available, an unparalleled fleet of aircraft, and renowned faculty, Embry-Riddle demonstrates a commitment to providing unmatched aviation facilities to support your academic experience.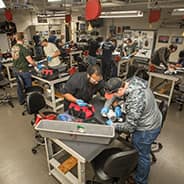 Daytona Beach, FL Campus
Daytona Beach students have access to a number of noteworthy facilities. The campus is home to the country's first Unmanned Aircraft Lab, used to examine ways to optimize airspace for both manned and unmanned craft.
Air Traffic Control students can hone their skills in labs that emulate the En Route, Terminal Radar, and Control Tower domains.
Aviation Maintenance students learn through direct training in eight dedicated labs that correspond with the Airframe and Powerplant program.
Students also have access to a state-of-the-art Weather Research Center, a Media Broadcasting Lab, and an expanding Aircraft Accident Forensics Lab, known as the Crash Lab.
As future pilots, Aeronautical Science students train using industry-standard flight simulators and aircraft.
The Daytona Beach Campus boasts an impressive fleet of aircraft that includes Cessna 172 Skyhawks and Diamond DA42-VIs. Students use some of the most advanced flight training devices, such as the FAA Level D CRJ full-motion, full-flight simulator, to prepare for flight careers.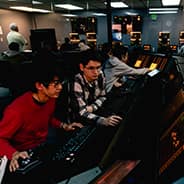 Prescott, AZ Campus
In addition to its own state-of-the-art Air Traffic Control (ATC) Lab, the Prescott Campus offers aviation students an advanced Weather Center and Meteorology Suite, advanced flight training devices, and the most extensive and expansive Accident Investigation Lab anywhere outside of that belonging to the National Transportation Safety Board.
This Crash Lab, known as the Robertson Aircraft Accident Investigation Lab, is the only scenario-based investigation facility for student education at any university.
In addition, Prescott's Aerospace Experimentation and Fabrication Building (AXFAB) gives students the instruction, resources, and equipment needed to fabricate and assemble projects.
Our future pilots train using industry standard fixed and rotary wing aircraft and simulators.
The Prescott campus boasts an impressive fleet of aircraft that includes Cessna 172 Skyhawks and Diamond DA42 NGs. The Flight Line is also home to Robinson helicopters, including R-22, R-44, R-66 and Bell 206 models, for those who aspire to command rotary-wing aircraft.
Students can also use some of the most advanced flight training devices, including simulators, as they prepare for flight careers.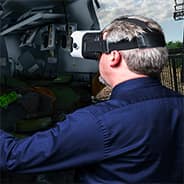 Worldwide Campus
Embry-Riddle Worldwide delivers a quality academic experience by expert faculty educators with hands-on industry experience in our three academic colleges and Online Campus. Flexible scheduling and locations close to home are specifically suited for busy working professionals, active-duty military and veterans, and students with families.
EagleVision, a virtual classroom, combines the power of web video conferencing and learning management system software to maximize the benefits of synchronous and asynchronous virtual learning environments.
With the Virtual Crash Lab, students can examine an aircraft accident scene, document evidence, and even interview survivors. This lab enhance the learning environment for several of our safety courses.