Bachelor of Science in
Aerospace Physiology
The only undergraduate degree of its kind in the nation blends aerospace and life science to prepare students for new opportunities in biomedicine and space.
The only undergraduate degree of its kind in the nation, the Bachelor of Science in Aerospace Physiology blends aerospace with life science and leverages Embry-Riddle's many strengths to take advantage of emerging opportunities in space and biomedicine.
Students study how extreme environments influence biological systems, including such things as the impacts of microgravity and radiation. The extensive curriculum prepares them for a variety of opportunities, not only in the medical fields but also in research and development to support the aerospace industry's need for expertise in behavioral neuroscience, stress and fatigue, nutritional biochemistry, pharmacotherapeutics, health and human performance, genomic expression, and the human microbiome, among others.
For those students interested in the health sciences, personalized advising tracks have been created to facilitate those applying to medical school, pharmacy, physical therapy, physician assistant, optometry, chiropractic medicine, occupational therapy, dentistry, and pathologist assistant programs.
The Bachelor of Science in Aerospace Physiology degree is housed in the Department of Human Factors and Behavioral Neurobiology in the College of Arts and Sciences.
By 2026, healthcare employment is expected to increase by 18%, or about 2.4 million new jobs, compared with 2016, the U.S. Bureau of Labor Statistics reported. With worldwide space business valued at $329 billion as of 2016, according to the Space Foundation, the need for aerospace physiologists as well as physicians specializing in aerospace medicine is expected to grow.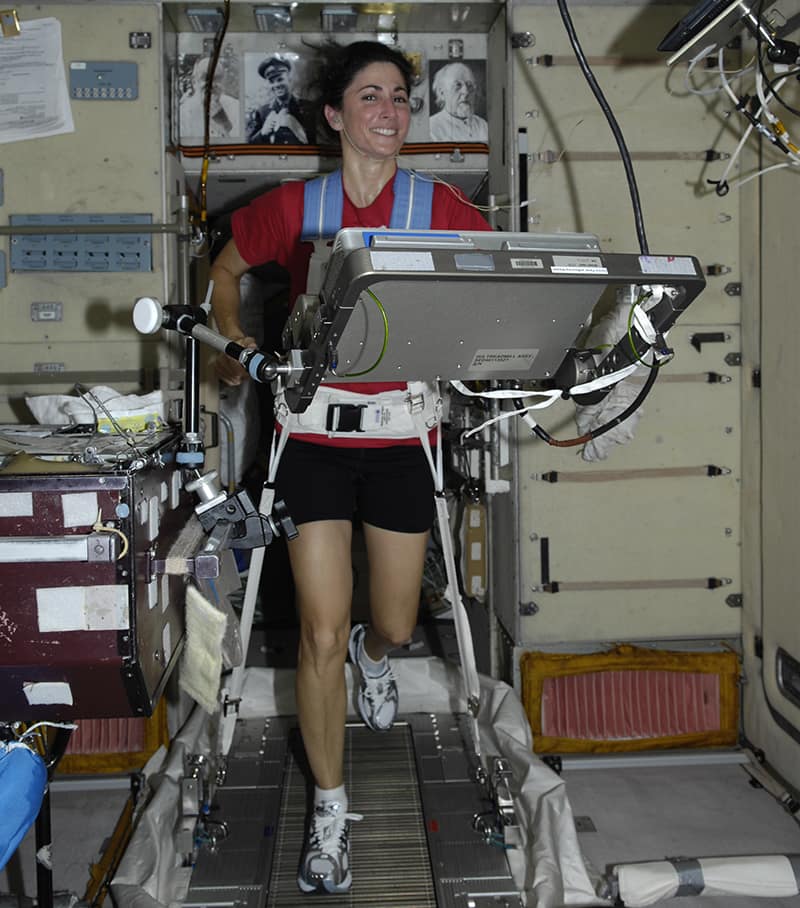 Embry-Riddle graduate Nicole Stott works on a treadmill while on board the International Space Station. (Photo: Nicole Stott)
About Aerospace Physiology at the Daytona Beach, FL Campus
Aerospace Physiology is a growing field, creating career opportunities that range from the military and NASA to commercial space and private sector healthcare. Students who graduate from this unique program are perfectly positioned to fill these roles or go on to pursue post-graduate degrees.
The courses, taught by faculty with vast real-world experience in aerospace and physiology, ensure students have the breadth of knowledge they need, thanks to a combination of subjects that include data analysis, human factors and performance, molecular and cellular biology, and aviation.
In addition to the classwork, our groundbreaking partnerships with area hospitals allow Aerospace Physiology students to experience hands-on clinical rotations that will expose them to latest in medical innovations, treatment techniques and cutting-edge research.
General Education Requirements
For a full description of Embry-Riddle General Education guidelines, please see the General Education section of this catalog. These minimum requirements are applicable to all degree programs
General Education List
Communication Theory and Skills (

COM 122

,

COM 219

,

COM 221

)
9

Humanities - Lower level

3

Social Sciences - Lower level

3

Humanities or Social Sciences - Lower or Upper level

*
3

Humanities or Social Sciences - Upper level

3
Computer Science (

CS 118

or

CS 223

or

EGR 115

or

CYB 235

)
3
Mathematics (

MA 210

required)
6

Physical and Life Sciences (BIO, CHM or PS from the core list)

0
Total Credits
30
Core List
BIO 110

Research Methods I
1

BIO 111

Research Symposium
1

BIO 120

Foundations of Biology I
3

BIO 120L

Foundations of Biology I Laboratory
1

BIO 121

Foundations of Biology II
3

BIO 121L

Foundations of Biology II Lab
1

BIO 215

Genetics
3

BIO 215L

Genetics Laboratory
1

BIO 305

Human Anatomy and Physiology I
3

BIO 305L

Human Anatomy & Physiology Laboratory
1

BIO 306

Human Anatomy and Physiology II
3

BIO 306L

Human Anatomy and Physiology II Laboratory
1

BIO 405

Molecular and Cell Biology
3

BIO 405L

Molecular and Cell Biology Laboratory
1

CHM 110

General Chemistry I
3

CHM 110L

General Chemistry I Laboratory
1

CHM 111

General Chemistry II
3

CHM 111L

General Chemistry II Laboratory
1

HF 300

Human Factors I: Principles and Fundamentals
3

HF 440

Aerospace Physiology
3
or 

AS 357

Flight Physiology

MA 222

Business Statistics
3

PS 113

Introductory Physics I
3

PS 113L

Introductory Physics I Laboratory
1

PS 117

Introductory Physics II
3

PS 117L

Introductory Physics II Lab
1

UNIV 101

College Success
1
Total Credits
52
Students must select one Track 
Human Physiology Track
BIO 440

Clinical Rotation
3

BIO 450

Exercise Physiology and Human Performance
3

Specified Electives in Biology and Chemistry (with labs)

4

Select at least one of the following courses with lab(s)

Microbiology
Microbiology Laboratory
Organic Chemistry I
Organic Chemistry I Laboratory
Biochemistry
Biochemistry Laboratory

Specified Electives in Psychology, Biology, Human Factors, and Other Subject areas

14-15

*Select four to five courses

Microbiology
Microbiology Laboratory
Special Topics in Biology
Behavioral Neuroscience I
Behavioral Neuroscience II
Cell Signaling and Disease
Special Topics in Biology
Immunology
Special Topics in Biology
Organic Chemistry I
Organic Chemistry I Laboratory
Organic Chemistry II
Organic Chemistry II Laboratory
Biochemistry
Biochemistry Laboratory
Space Environment and Effects
Ergonomics and Bioengineering
Psychopharmacology
Human Performance in Extreme Environments
Special Topics in Human Factors
Special Topics in Human Factors
Fundamentals of Biomechanics
Biofluid Mechanics
Introduction to Psychology *
Sensation and Perception
Aviation Psychology
Physiological Psychology
Environmental Compliance and Safety
Industrial Hygiene and Toxicology
Life Support Systems

Total

24-25
Cellular Physiology and Biochemistry Track 
BIO 211

Research
1

BIO 216

Microbiology
3

BIO 216L

Microbiology Laboratory
1

BIO 311

Research
1

BIO 411

Research Symposium II
1

CHM 210

Organic Chemistry I
3

CHM 210L

Organic Chemistry I Laboratory
1

CHM 310

Biochemistry
3

CHM 310L

Biochemistry Laboratory
1

*Specified Electives (select three courses)

9
Special Topics in Biology
Behavioral Neuroscience I
Behavioral Neuroscience II
Cell Signaling and Disease
Special Topics in Biology
Immunology
Exercise Physiology and Human Performance
Special Topics in Biology
Organic Chemistry II
Organic Chemistry II Laboratory
Space Environment and Effects
Ergonomics and Bioengineering
Psychopharmacology
Human Performance in Extreme Environments
Special Topics in Human Factors
Special Topics in Human Factors
Fundamentals of Biomechanics
Biofluid Mechanics
Introduction to Psychology *
Sensation and Perception
Aviation Psychology
Physiological Psychology
Environmental Compliance and Safety
Industrial Hygiene and Toxicology
Life Support Systems

Total

24-25
| | |
| --- | --- |
| Open Electives - 100-400 Level | 6 |
| Open Electives - 300-400 Level | 9 |
| | |
| --- | --- |
| * | PSY 101 must be taken as a Specified Elective if not completed as a lower level General Education Social Science requirement. |
Suggested Plan of Study
Year One
Credits
Fall

BIO 110

Research Methods I
1

BIO 120

Foundations of Biology I
3

BIO 120L

Foundations of Biology I Laboratory
1

CHM 110

General Chemistry I
3

CHM 110L

General Chemistry I Laboratory
1

COM 122

English Composition
3
MA 111/120 or equivalent
3

UNIV 101

College Success
1
Spring

BIO 111

Research Symposium
1

BIO 121

Foundations of Biology II
3

BIO 121L

Foundations of Biology II Lab
1

CHM 111

General Chemistry II
3

CHM 111L

General Chemistry II Laboratory
1
Lower Level Social Science Elective
3
HU 14X Elective
3
 
Credits Subtotal
31.0
 
Credits Total:
31.0
Suggested Plan of Study - Cellular Physiology and Biochemistry Track
Year Two
Credits
Fall

BIO 210

Research
1

BIO 215

Genetics
3

BIO 215L

Genetics Laboratory
1

BIO 305

Human Anatomy and Physiology I
3

BIO 305L

Human Anatomy & Physiology Laboratory
1

CHM 210

Organic Chemistry I
3

CHM 210L

Organic Chemistry I Laboratory
1

COM 219

Speech
3
Spring

BIO 211

Research
1

BIO 216

Microbiology
3

BIO 216L

Microbiology Laboratory
1

BIO 306

Human Anatomy and Physiology II
3

BIO 306L

Human Anatomy and Physiology II Laboratory
1

CHM 211

Organic Chemistry II
3

CHM 211L

Organic Chemistry II Laboratory
1

COM 221

Technical Report Writing
3
 
Credits Subtotal
32.0
Year Three
Fall

BIO 310

Research
1

CS 118

Fundamentals of Computer Programming
3
Scientific Programming in C
Introduction to Computing for Engineers
Computer and Network Technologies
Specified Elective (Cellular Physiology &. Biochemistry Track)
3

PS 113

Introductory Physics I
3

PS 113L

Introductory Physics I Laboratory
1
Open Elective (300-400 level)
3
Spring

BIO 311

Research
1

HF 300

Human Factors I: Principles and Fundamentals
3

MA 222

Business Statistics
3

PS 117

Introductory Physics II
3

PS 117L

Introductory Physics II Lab
1
Specified Elective (Cellular Physiology and Biochemistry Track)
3
 
Credits Subtotal
28.0
Year Four
Fall

BIO 405

Molecular and Cell Biology
3

BIO 405L

Molecular and Cell Biology Laboratory
1

BIO 410

Research
1
HU/SS Lower or Upper Level Elective
3
Specified Elective Cellular Physiology and Biochemistry Track
3
Open Elective (300-400 level)
3
Spring

BIO 411

Research Symposium II
1

HF 440

Aerospace Physiology
3
Flight Physiology
HU/SS Upper Level Elective
3
Open Elective (300-400 Level)
3
Open Elective (Any Level)
3
Open Elective (Any Level)
3
 
Credits Subtotal
30.0
 
Credits Total:
121-122
*

Specified Electives: Cellular Physiology and Biochemistry Track

PSY 101 (if not taken as LL SS Gen Ed), BIO 299, BIO 321, BIO 322, BIO 335, BIO 399, BIO 444, BIO 450, BIO 499, CHM 211 & 211L, ES 315, HF 312, HF 321, HF 326, HF 399, HF 499, ME 320, ME 442, PSY 310, PSY 320, PSY 335, SF 315, SF 355, SP 220
Suggested Plan of Study - Human Physiology Track
Year Two
Credits
Fall

BIO 215

Genetics
3

BIO 215L

Genetics Laboratory
1

BIO 305

Human Anatomy and Physiology I
3

BIO 305L

Human Anatomy & Physiology Laboratory
1

COM 219

Speech
3
Specified Elective Biology & Chemistry (with lab) **
4
Spring

BIO 306

Human Anatomy and Physiology II
3

BIO 306L

Human Anatomy and Physiology II Laboratory
1

COM 221

Technical Report Writing
3
Specified Elective Human Physiology Track or Biology and Chemistry (with lab) **
3-4
Specified Elective Human Physiology Track **
3
Open Elective (300-400 level)
3
 
Credits Subtotal
31.0-32.0
Year Three
Fall

BIO 440

Clinical Rotation
3

PS 113

Introductory Physics I
3

PS 113L

Introductory Physics I Laboratory
1

CS 118

Fundamentals of Computer Programming
3
Scientific Programming in C
Introduction to Computing for Engineers
Computer and Network Technologies
Specified Elective Human Physiology or Biology and Chemistry (with lab) **
3-4

BIO 340

Survey of Clinical Instrumentation
3

PS 117

Introductory Physics II
3

PS 117L

Introductory Physics II Lab
1
Specified Elective Human Physiology Track **
3

HF 300

Human Factors I: Principles and Fundamentals
3

MA 222

Business Statistics
3
 
Credits Subtotal
29.0-30.0
Year Four
Fall

BIO 405

Molecular and Cell Biology
3

BIO 405L

Molecular and Cell Biology Laboratory
1
HU/SS Lower or Upper Level Elective
3
Specified Elective Human Physiology Track (unless prior 3 are all 4 credits) **
0-3
Open Elective (300-400 level)
3
Open Elective (Any Level)
3
Spring

HF 440

Aerospace Physiology
3
Flight Physiology
Specified Elective Human Physiology Track
3
HU/SS Upper Level Elective
3
Open Elective (300-400 level)
3
Open Elective (Any Level)
3
 
Credits Subtotal
28.0-31.0
 
Credits Total:
121-122
Year Two
Credits
Fall

BIO 215

Genetics
3

BIO 215L

Genetics Laboratory
1

BIO 305

Human Anatomy and Physiology I
3

BIO 305L

Human Anatomy & Physiology Laboratory
1

COM 219

Speech
3
Specified Elective Biology & Chemistry (with lab) **
4
Spring

BIO 306

Human Anatomy and Physiology II
3

BIO 306L

Human Anatomy and Physiology II Laboratory
1

COM 221

Technical Report Writing
3
Specified Elective Human Physiology Track or Biology and Chemistry (with lab) **
3-4
Specified Elective Human Physiology Track **
3
Open Elective (300-400 level)
3
 
Credits Subtotal
31.0-32.0
Year Three
Fall

BIO 440

Clinical Rotation
3

PS 113

Introductory Physics I
3

PS 113L

Introductory Physics I Laboratory
1

CS 118

Fundamentals of Computer Programming
3
Scientific Programming in C
Introduction to Computing for Engineers
Computer and Network Technologies
Specified Elective Human Physiology or Biology and Chemistry (with lab) **
3-4

BIO 340

Survey of Clinical Instrumentation
3

PS 117

Introductory Physics II
3

PS 117L

Introductory Physics II Lab
1
Specified Elective Human Physiology Track **
3

HF 300

Human Factors I: Principles and Fundamentals
3

MA 222

Business Statistics
3
 
Credits Subtotal
29.0-30.0
Year Four
Fall

BIO 405

Molecular and Cell Biology
3

BIO 405L

Molecular and Cell Biology Laboratory
1
HU/SS Lower or Upper Level Elective
3
Specified Elective Human Physiology Track (unless prior 3 are all 4 credits) **
0-3
Open Elective (300-400 level)
3
Open Elective (Any Level)
3
Spring

HF 440

Aerospace Physiology
3
Flight Physiology
Specified Elective Human Physiology Track
3
HU/SS Upper Level Elective
3
Open Elective (300-400 level)
3
Open Elective (Any Level)
3
 
Credits Subtotal
28.0-31.0
 
Credits Total:
121-122
**

** Specified Electives in Biology & Chemistry (with labs): Human Physiology Track

BIO 216 & BIO 216L; CHM 210 & CHM 210L; CHM 310 & CHM 310L

Specified Electives: Human Physiology Track

PSY 101 (if not taken as LL SS Gen Ed), BIO 299, BIO 321, BIO 322, BIO 335, BIO 399, BIO 444, BIO 499, CHM 211 & 211L, ES 315, HF 312, HF 321, HF 326, HF 399, HF 499, ME 320, ME 442, PSY 310, PSY 320, PSY 335, SF 315, SF 355, SP 220
Spotlight