Choose Your Degree
Lead an industry. Fly an aircraft. Design an engine.
Predict the weather. Protect the nation. Explore outer space.
With more than 100 undergraduate and graduate degrees, Embry-Riddle Aeronautical University offers the world's most comprehensive collection of academic programs focused in aviation, aerospace, business, engineering and security. Let us help you choose the one that best fits you.
For the seventh consecutive year, Embry-Riddle Worldwide has been named one of the nation's top online educators by U.S. News & World Report.
---
Find out more about your area of interest.
Pick Your Campus
We are on the Florida shores of the Atlantic Ocean and at the foot of Arizona's Bradshaw Mountains.
We are around the world, and we are around the corner.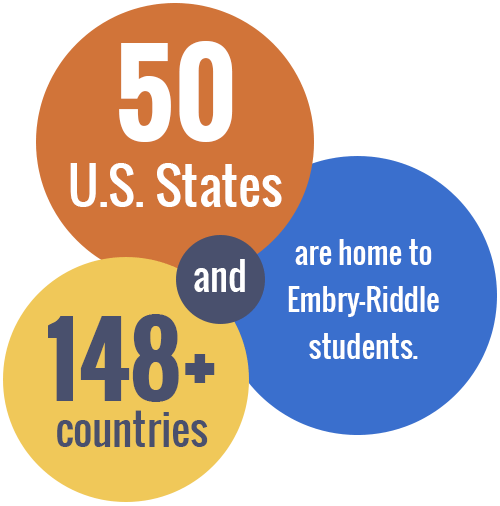 Schedule a Visit
Paying a visit to one of our campuses, will make your decision to become an Eagle easy.
On-campus tours provide prospective students with an opportunity to meet with admissions and financial aid counselors, and professors. You can sit in on a class, and tour the dorms, student center, and dining facilities. You can even go high above the campus on an observer flight.
At the Worldwide Campus we encourage you to visit the location near you or set up a telephone call with a counselor to explore the benefits of the campus' flexible online and classroom programs.
Pay a visit to Daytona Beach, FL, Prescott, AZ, or the Worldwide Campus location near you. We also travel around the country and world to meet with prospective students. See if there's an upcoming Admissions event close to where you live in the U.S. or learn more about Embry-Riddle at one of our International events.
International Students
Home to students from more than 148 countries, Embry-Riddle fosters a welcoming, cross-cultural environment alongside a world-class education. Whether you are looking for a traditional on-campus experience, online learning, or a mixture of both, we offer options to suit every higher education need.
At Embry-Riddle, you'll meet fellow students from around the globe with similar passions and a drive to succeed. Our diverse campus communities encourage students to learn necessary career skills while developing their own individual abilities and strengths that help them stand out among industry competition throughout the world.
Our team understands the complexity of the international admission process and provides support for important matters like immigration regulations, housing and health insurance. Learn more about Embry-Riddle international student opportunities.
Earning your degree, of course, comes at a cost. However, we believe an Embry-Riddle education is worth that cost — and the numbers agree.
Our campus in Daytona Beach, FL ranked in the top 100 in the nation in terms of return on investment (ROI) for a student's tuition and costs for 2018, according to PayScale.com, and our campus in Prescott, AZ ranked in the top 100 in the nation for highest-paid graduates with bachelor's degrees in another set of rankings by PayScale.com.
With the help of a net price calculator and estimated cost charts on the website of your chosen campus, you can determine your own cost of attending Embry-Riddle. Our knowledgeable financial aid counselors can inform you about the grants, scholarships, student employment, and loans available to help finance the pursuit of your career dreams.


of Embry-Riddle freshmen students receive some form of financial aid.
The relationship between Embry-Riddle and the military goes back to the 1920s, when the Army Air Corps taught John Paul Riddle to fly. Riddle returned the favor almost 20 years later during World War II by training thousands of Army Air Corps pilots, Naval aviators, and Royal Air Force and French pilots.
That tradition lives on today in our commitment to active-duty military and veterans.
In 2018, Embry-Riddle was named one the best schools for active-duty military and veterans for the fifth straight year in Military Advanced Education magazine's Guide to Top Military-Friendly Colleges & Universities. In the same year, the Daytona Beach Campus was ranked No. 1 for veterans among regional universities in the South by U.S. News & World Report. Our Worldwide Campus was also named No. 1 in the entire nation for Best Online Bachelor's Degree Programs for Veterans for 2020.
Apply Today
Choosing a university and degree is the hard part. If you've decided on Embry-Riddle, we thank you and look forward to making the application process as easy as possible.
Applications can be submitted electronically for all three of our campuses: Daytona Beach, FL, Prescott, AZ, and Worldwide.
It's important for you to be familiar with the documents you'll need to complete your application. Your student status and type of degree you're seeking will impact your admission requirements.
Applications are evaluated on a rolling basis. Once all necessary documents are received, we will notify you of your admission status.
We look forward to seeing the next class of Eagles on campus soon!