Bachelor of Science in
Aviation Maintenance Science
Designed for students who want to increase their skills as an aviation maintenance technician, this program provides a four-year degree with a specific focus area.
ERAU was founded to educate pilots and mechanics, and it remains the leader in the field. Students here are surrounded by people who share the same passion for excellence, precision, and safety. The demand for aviation maintenance specialists has never been greater, and with a degree, graduates are positioned for advancement into management. ERAU graduates emerge from the Aviation Maintenance program with the ability to service, troubleshoot, and repair aircraft.
The 2019 Boeing Pilot & Technician Outlook projects a global need for 769,000 aviation technicians during the next 20 years.
Certifications/licenses previously earned may qualify for applied credit.
The Aviation Maintenance program at ERAU is taught by dedicated faculty who are also industry professionals. Together, they have more than 300 years of combined knowledge and experience.
Although the program is geared toward aviation and aerospace, ERAU's curriculum prepares graduates for success with companies in any industry.
About Aviation Maintenance Science at the Daytona Beach, FL Campus
Housed within the College of Aviation at ERAU's Daytona Beach Campus, the B.S. in Aviation Maintenance degree program is designed for students who want to increase the value of their aviation maintenance technician skills to provide wider opportunities for career advancement. This program aims to provide not only the four-year degree to complement the skills but a specific focus.
Choose from among four areas of concentration:
Flight:

for those students who wish to combine a maintenance background with the qualifications of a commercial pilot.




Note:

the flight program is at maximum capacity, therefore the flight concentration is not currently available.



Maintenance Management:

for those who wish to use their maintenance skills as a platform for advancing into a management position in one of the many aviation maintenance environments.

Safety Science:

this area of concentration combines both industrial and aviation-specific safety courses which prepare students for a rewarding career path.

Avionics Cybertechnology and Security: this cutting-edge area of concentration will prepare students to answer the importance of aerospace connectivity and data security.
Each area of concentration is designed to complement the FAA's Airframe and Power Plant certification, which collectively serve to bolster our students' academic credentials. Students can obtain additional industry recognized certifications through the minor in Avionics Line Maintenance. Through this program students can test for the FCC General Radio Telephone Operators License (GROL) and the NCATT Aircraft Electronics Technician (AET) certificate. Both further help our students integrate themselves into the workforce.
Courses taken in the Aviation Maintenance Science Department lead to a student being approved for the A&P certification exams. Credit will be granted for any student who enters ERAU already in possession of the A&P certification.
A typical first year includes general education courses like English Composition, Psychology, and Humanities, in addition to foundational course work such as Tools, Materials and Processes, Aircraft Familiarization and Regulations, College Mathematics for Aviation, and Fundamentals of Electricity.
Within the aviation and aerospace industries, ERAU is renowned for providing exceptional aircraft maintenance technicians and engineers. The University's top ranking is well known throughout aircraft maintenance in the corporate, commercial, and private sectors.
See the Aviation Maintenance Science Student Handbook
General Education Requirements
For a full description of Embry-Riddle General Education guidelines, please see the General Education section of this catalog. These minimum requirements are applicable to all degree programs.
Communication Theory and Skills (

COM 122

,

COM 219

,

COM 221

)
9

Lower-Level Humanities

3
Lower-Level Social Sciences (

PSY 101

)
3

Lower or Upper-Level Humanities or Social Sciences

3

Upper-Level Humanities or Social Sciences

3
Computer Science (

CS 120

)
3

Mathematics

*
6

Physical Sciences

**
6
Total Credits
36
*

Mathematics required courses - Maintenance Management AOC, MA 111 or MA 140 and MA 222. Avionics Cybertechnology and Security, Flight and Safety Science AOCs, MA 111 and MA 112.

**

Physical Sciences required courses - Avionics Cybertechnology and Security and Maintenance Management AOCs, any two lower level physical science courses with at least one laboratory. Flight and Safety Science AOC, PS 113 and PS 117 (One Laboratory required).
Aviation Maintenance Science Courses (leading to A&P certification)
AMS 115

Aviation Mathematics and Physics
2

AMS 116

Fundamentals of Electricity
4

AMS 117

Tools, Materials and Processes
4

AMS 118

Aircraft Familiarization and Regulations
2

AMS 261

Aircraft Metallic Structures
3

AMS 262

Aircraft Composite Structures
3

AMS 263

General Aviation Aircraft Systems
3

AMS 264

General Aviation Aircraft Electrical and Instrument Systems
3

AMS 271

Aircraft Reciprocating Powerplant and Systems
3

AMS 272

Powerplant Electrical and Instrument Systems
3

AMS 273

Propeller Systems
2

AMS 274

Aircraft Turbines Powerplants and Systems
4

AMS 365

Transport Category Aircraft Systems
3

AMS 366

Transport Category Aircraft Electrical and Instrument Systems
3

AMS 375

Repair Station Operations
3

AMS 376

Powerplant Line Maintenance
3
Total Credits
48
Tuition for the AMS courses is less than for the other courses in the degree, and is billed separately from the University block tuition. Contact the AMS program coordinator for additional information.
Avionics Cybertechnology & Security Area of Concentration 
AMSA 490

Aviation Technical Operations
3

AMS 380

Radio Communication Theory & Application
2

AMS 384

General Aviation Avionics Systems Integration
4

AMS 388

Air Transport Avionics Systems Line Maintenance
6

CS 223

Scientific Programming in C
3

CS 225

Computer Science II
4

CS 303

Cryptography and Network Security
3

CS 344

C Programming and UNIX
3

CS 427

System Exploitation and Penetration Testing
3

CYB 155

Foundations of Information Security
3

CYB 474

Issues in Aviation Cybersecurity
3
Total Credits
37
Flight Area of Concentration

FA 121

Private Single Flight
1

FA 221

Instrument Single Flight
1

FA 321

Commercial Single Flight
1

FA 323

Commercial Multi Add On
1

AMSA 490

Aviation Technical Operations
3

AS 121

Private Pilot Operations
5

AS 221

Instrument Pilot Operations
3

AS 309

Aerodynamics
3

AS 310

Aircraft Performance
3

AS 321

Commercial Pilot Operations
3

AS 350

Domestic and International Navigation
3

AS 357

Flight Physiology
3

WX 201

Survey of Meteorology
3

WX 301

Aviation Weather
3
Total Credits
36

Maintenance Management Area of Concentration

ACC 210

Financial Accounting
3

AMSA 490

Aviation Technical Operations
3

BA 201

Principles of Management
3

BA 225

Business Law
3

BA 232

Techniques in Business Analytics
3

BA 314

Human Resource Management
3

BA 320

Business Information Systems
3

BA 324

Aviation Labor Relations
3

BA 325

Social Responsibility and Ethics in Management
3

BA 411

Logistics Management for Aviation/Aerospace
3

FIN 332

Corporate Finance I
3

MK 220

Marketing
3
Total Credits
36

Safety Science Area of Concentration

AMSA 490

Aviation Technical Operations
3

SF 201

Introduction to Safety and Health
3
or 

SF 210

Introduction to Aerospace Safety

SF 205

Principles of Accident Investigation
3

SF 315

Environmental Compliance and Safety
3

SF 316

Workers Compensation, Insurance, and Risk Management
3

SF 320

Human Factors in Aviation Safety
3

SF 345

Safety Program Management
3

SF 365

Fire Protection
3

SF 462

Health, Safety, and Aviation Law
3

Choose one focus from the options below:

9

Aviation Focus Course List:

Aircraft Accident Investigation
Propulsion Plant Investigation
Mechanical and Structural Factors in Aviation Safety
Aircraft Crash Survival Analysis and Design

Occupational Safety Focus Course List:

Introduction to Industrial Security
Industrial Hygiene and Toxicology
Design of Engineering Hazard Controls
Design of Engineering Hazard Controls II
Total Credits
36

Suggested Plan of Study 
Year One
Credits

COM 122

English Composition
3

COM 219

Speech
3

CS 120

Introduction to Computing in Aviation
3

CS 223

Scientific Programming in C
3

CS 225

Computer Science II
4

CYB 155

Foundations of Information Security
3

MA 111

Pre-Calculus for Aviation
3

PSY 101

Introduction to Psychology
3
Lower-Level Humanities Elective
3
 
Credits Subtotal
28.0
Year Two

AMS 115

Aviation Mathematics and Physics
2

AMS 116

Fundamentals of Electricity
4

AMS 117

Tools, Materials and Processes
4

AMS 118

Aircraft Familiarization and Regulations
2

AMS 262

Aircraft Composite Structures
3

AMS 263

General Aviation Aircraft Systems
3

AMS 264

General Aviation Aircraft Electrical and Instrument Systems
3

CS 303

Cryptography and Network Security
3

MA 112

Applied Calculus for Aviation
3
HU/SS Lower or Upper Level Elective
3
 
Credits Subtotal
30.0
 
Credits Total:
58.0
Year Three
Credits

COM 221

Technical Report Writing
3

AMS 261

Aircraft Metallic Structures
3

AMS 365

Transport Category Aircraft Systems
3

AMS 366

Transport Category Aircraft Electrical and Instrument Systems
3

AMS 273

Propeller Systems
2

CS 344

C Programming and UNIX
3

AMS 271

Aircraft Reciprocating Powerplant and Systems
3

AMS 272

Powerplant Electrical and Instrument Systems
3

PS 113

Introductory Physics I
3

PS 113L

Introductory Physics I Laboratory
1
HU/SS Upper Level Elective
3
 
Credits Subtotal
30.0
 
Credits Total:
30.0
Summer Session
Credits

AMS 274

Aircraft Turbines Powerplants and Systems
4

AMS 375

Repair Station Operations
3

AMS 376

Powerplant Line Maintenance
3
 
Credits Subtotal
10.0
 
Credits Total:
10.0
Year Four
Credits

AMS 380

Radio Communication Theory & Application
2

AMS 384

General Aviation Avionics Systems Integration
4

AMS 388

Air Transport Avionics Systems Line Maintenance
6

AMSA 490

Aviation Technical Operations
3

CS 427

System Exploitation and Penetration Testing
3

CYB 474

Issues in Aviation Cybersecurity
3
Physics and Life Science Lower Level Elective
3
Open Electives
6
 
Credits Subtotal
30.0
 
Credits Total:
30.0
Year One
Credits

AMS 115

Aviation Mathematics and Physics
2

AMS 116

Fundamentals of Electricity
4

AMS 117

Tools, Materials and Processes
4

AMS 118

Aircraft Familiarization and Regulations
2

COM 122

English Composition
3

COM 219

Speech
3

CS 120

Introduction to Computing in Aviation
3

MA 111

Pre-Calculus for Aviation
3

PSY 101

Introduction to Psychology
3
Lower-Level Humanities Elective
3
 
Credits Subtotal
30.0
Year Two

AMS 261

Aircraft Metallic Structures
3

AMS 262

Aircraft Composite Structures
3

AMS 263

General Aviation Aircraft Systems
3

AMS 264

General Aviation Aircraft Electrical and Instrument Systems
3

AMS 365

Transport Category Aircraft Systems
3

AMS 366

Transport Category Aircraft Electrical and Instrument Systems
3

AMS 271

Aircraft Reciprocating Powerplant and Systems
3

AMS 272

Powerplant Electrical and Instrument Systems
3

MA 112

Applied Calculus for Aviation
3

PS 113

Introductory Physics I
3
 
Credits Subtotal
30.0
 
Credits Total:
60.0
Year Three
Credits

AMS 273

Propeller Systems
2

AMS 274

Aircraft Turbines Powerplants and Systems
4

AMS 375

Repair Station Operations
3

AMS 376

Powerplant Line Maintenance
3

AS 121

Private Pilot Operations
5

AS 221

Instrument Pilot Operations
3

COM 221

Technical Report Writing
3

FA 121

Private Single Flight
1

FA 221

Instrument Single Flight
1

PS 117

Introductory Physics II
3

WX 201

Survey of Meteorology
3
Lower-Level Social Science Elective
3
 
Credits Subtotal
34.0
Year Four

AMSA 490

Aviation Technical Operations
3

AS 309

Aerodynamics
3

AS 310

Aircraft Performance
3

AS 321

Commercial Pilot Operations
3

AS 350

Domestic and International Navigation
3

AS 357

Flight Physiology
3

FA 321

Commercial Single Flight
1

FA 323

Commercial Multi Add On
1

WX 301

Aviation Weather
3
Upper-Level Open Electives
6
Upper-Level Humanities or Social Science Elective
3
 
Credits Subtotal
32.0
 
Credits Total:
66.0
Year One
Credits

AMS 115

Aviation Mathematics and Physics
2

AMS 116

Fundamentals of Electricity
4

AMS 117

Tools, Materials and Processes
4

AMS 118

Aircraft Familiarization and Regulations
2

COM 122

English Composition
3

COM 219

Speech
3

CS 120

Introduction to Computing in Aviation
3

MA 111

Pre-Calculus for Aviation
3
College Algebra

PSY 101

Introduction to Psychology
3
Lower-Level Humanities Elective
3
 
Credits Subtotal
30.0
Year Two

AMS 261

Aircraft Metallic Structures
3

AMS 262

Aircraft Composite Structures
3

AMS 263

General Aviation Aircraft Systems
3

AMS 264

General Aviation Aircraft Electrical and Instrument Systems
3

AMS 365

Transport Category Aircraft Systems
3

AMS 366

Transport Category Aircraft Electrical and Instrument Systems
3

AMS 271

Aircraft Reciprocating Powerplant and Systems
3

AMS 272

Powerplant Electrical and Instrument Systems
3

MA 222

Business Statistics
3

PS 113

Introductory Physics I
3
 
Credits Subtotal
30.0
 
Credits Total:
60.0
Year Three
Credits

ACC 210

Financial Accounting
3

AMS 273

Propeller Systems
2

AMS 274

Aircraft Turbines Powerplants and Systems
4

AMS 375

Repair Station Operations
3

AMS 376

Powerplant Line Maintenance
3

BA 201

Principles of Management
3

BA 232

Techniques in Business Analytics
3

COM 221

Technical Report Writing
3

PS 117

Introductory Physics II
3

MK 220

Marketing
3
Lower-Level Social Science (SS 110, 120 or 130)
3
 
Credits Subtotal
33.0
Year Four

AMSA 490

Aviation Technical Operations
3

BA 225

Business Law
3

BA 314

Human Resource Management
3

BA 320

Business Information Systems
3

BA 324

Aviation Labor Relations
3

BA 325

Social Responsibility and Ethics in Management
3

BA 411

Logistics Management for Aviation/Aerospace
3

FIN 332

Corporate Finance I
3
Upper-Level Humanities or Social Science Elective
3
Upper-Level Open Electives
6
 
Credits Subtotal
33.0
 
Credits Total:
66.0
Year One
Credits

AMS 115

Aviation Mathematics and Physics
2

AMS 116

Fundamentals of Electricity
4

AMS 117

Tools, Materials and Processes
4

AMS 118

Aircraft Familiarization and Regulations
2

COM 122

English Composition
3

COM 219

Speech
3

CS 120

Introduction to Computing in Aviation
3

MA 111

Pre-Calculus for Aviation
3

PSY 101

Introduction to Psychology
3
Lower-Level Humanities Elective
3
 
Credits Subtotal
30.0
Year Two

AMS 261

Aircraft Metallic Structures
3

AMS 262

Aircraft Composite Structures
3

AMS 263

General Aviation Aircraft Systems
3

AMS 264

General Aviation Aircraft Electrical and Instrument Systems
3

AMS 365

Transport Category Aircraft Systems
3

AMS 366

Transport Category Aircraft Electrical and Instrument Systems
3

AMS 271

Aircraft Reciprocating Powerplant and Systems
3

AMS 272

Powerplant Electrical and Instrument Systems
3

MA 112

Applied Calculus for Aviation
3

PS 113

Introductory Physics I
3
 
Credits Subtotal
30.0
 
Credits Total:
60.0
Year Three
Credits

AMS 273

Propeller Systems
2

AMS 274

Aircraft Turbines Powerplants and Systems
4

AMS 375

Repair Station Operations
3

AMS 376

Powerplant Line Maintenance
3

COM 221

Technical Report Writing
3

PS 117

Introductory Physics II
3

SF 201

Introduction to Safety and Health
3
Introduction to Aerospace Safety

SF 205

Principles of Accident Investigation
3

SF 315

Environmental Compliance and Safety
3

SF 330

Aircraft Accident Investigation
3
Lower-Level Social Sciences (SS 110, 120, 130)
3
 
Credits Subtotal
33.0
Year Four

AMSA 490

Aviation Technical Operations
3

SF 316

Workers Compensation, Insurance, and Risk Management
3

SF 320

Human Factors in Aviation Safety
3

SF 335

Mechanical and Structural Factors in Aviation Safety
3
Aircraft Crash Survival Analysis and Design

SF 345

Safety Program Management
3

SF 365

Fire Protection
3

SF 375

Propulsion Plant Investigation
3

SF 462

Health, Safety, and Aviation Law
3
Upper-Level Humanities or Social Science Elective
3
Upper-Level Open Electives
6
 
Credits Subtotal
33.0
 
Credits Total:
66.0
Year One
Credits

AMS 115

Aviation Mathematics and Physics
2

AMS 116

Fundamentals of Electricity
4

AMS 117

Tools, Materials and Processes
4

AMS 118

Aircraft Familiarization and Regulations
2

COM 122

English Composition
3

COM 219

Speech
3

CS 120

Introduction to Computing in Aviation
3

MA 111

Pre-Calculus for Aviation
3

PSY 101

Introduction to Psychology
3
Lower-Level Humanities Elective
3
 
Credits Subtotal
30.0
Year Two

AMS 261

Aircraft Metallic Structures
3

AMS 262

Aircraft Composite Structures
3

AMS 263

General Aviation Aircraft Systems
3

AMS 264

General Aviation Aircraft Electrical and Instrument Systems
3

AMS 365

Transport Category Aircraft Systems
3

AMS 366

Transport Category Aircraft Electrical and Instrument Systems
3

AMS 271

Aircraft Reciprocating Powerplant and Systems
3

AMS 272

Powerplant Electrical and Instrument Systems
3

MA 112

Applied Calculus for Aviation
3

PS 113

Introductory Physics I
3
 
Credits Subtotal
30.0
 
Credits Total:
60.0
Year Three
Credits

AMS 273

Propeller Systems
2

AMS 274

Aircraft Turbines Powerplants and Systems
4

AMS 375

Repair Station Operations
3

AMS 376

Powerplant Line Maintenance
3

COM 221

Technical Report Writing
3

HSI 215

Introduction to Industrial Security
3

PS 117

Introductory Physics II
3

SF 201

Introduction to Safety and Health
3
Introduction to Aerospace Safety

SF 205

Principles of Accident Investigation
3

SF 315

Environmental Compliance and Safety
3
Lower-Level Social Sciences (SS 110, 120, 130)
3
 
Credits Subtotal
33.0
Year Four

AMSA 490

Aviation Technical Operations
3

SF 316

Workers Compensation, Insurance, and Risk Management
3

SF 320

Human Factors in Aviation Safety
3

SF 345

Safety Program Management
3

SF 355

Industrial Hygiene and Toxicology
3

SF 365

Fire Protection
3

SF 410

Design of Engineering Hazard Controls
3
Design of Engineering Hazard Controls II

SF 462

Health, Safety, and Aviation Law
3
Upper-Level Humanities or Social Science Elective
3
Upper-Level Open Electives
6
 
Credits Subtotal
33.0
 
Credits Total:
66.0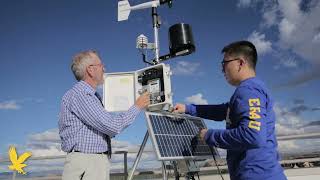 Play Video,
We Are Video
Spotlight