Two Embry-Riddle Degrees Form the Foundation for This Eagle's Aviation Dream
Portia Ani wants to use the combined skills and experiences from her B.S. in Aviation Maintenance Science and MBA degrees to one day open her own FBO.
When Portia Ani ('23, '24) envisions her future, she sees a bustling fixed-base operation that has a ramp filled with aircraft, a pilot center for dispatch, planning and training and a full-on maintenance facility that can handle anything from the smallest Cessna to the sleekest corporate jets.
And she is in charge of all of it.
"I really do want to open my own FBO, that's the ultimate goal," Portia said. "There's a lot that goes into it, but because I'm very hardworking I know that once I put everything into it, everything I've got, by God's grace, it's going to work out."
One Great Embry-Riddle Degree Deserves Another
Portia is building the foundation of her future FBO through Embry-Riddle Aeronautical University, where she's already earned her B.S. in Aviation Maintenance Science and is now on track to graduate with her MBA in December 2024.
"Most people told me to go out into the field first and work and then come back for my master's, but I know that once I start making the big bucks, I really won't want to come back to school," she said with a laugh.
"Honestly, even though I'm getting my MBA, I want it to be centered around aviation, and Embry-Riddle is still the best place for that," she continued. "I took maintenance management with my bachelor's degree, so I got to work with some of the professors in the business school, and I just wanted to keep working with people who knew what they were doing and who had the exposure and the connections I could only make within Embry-Riddle."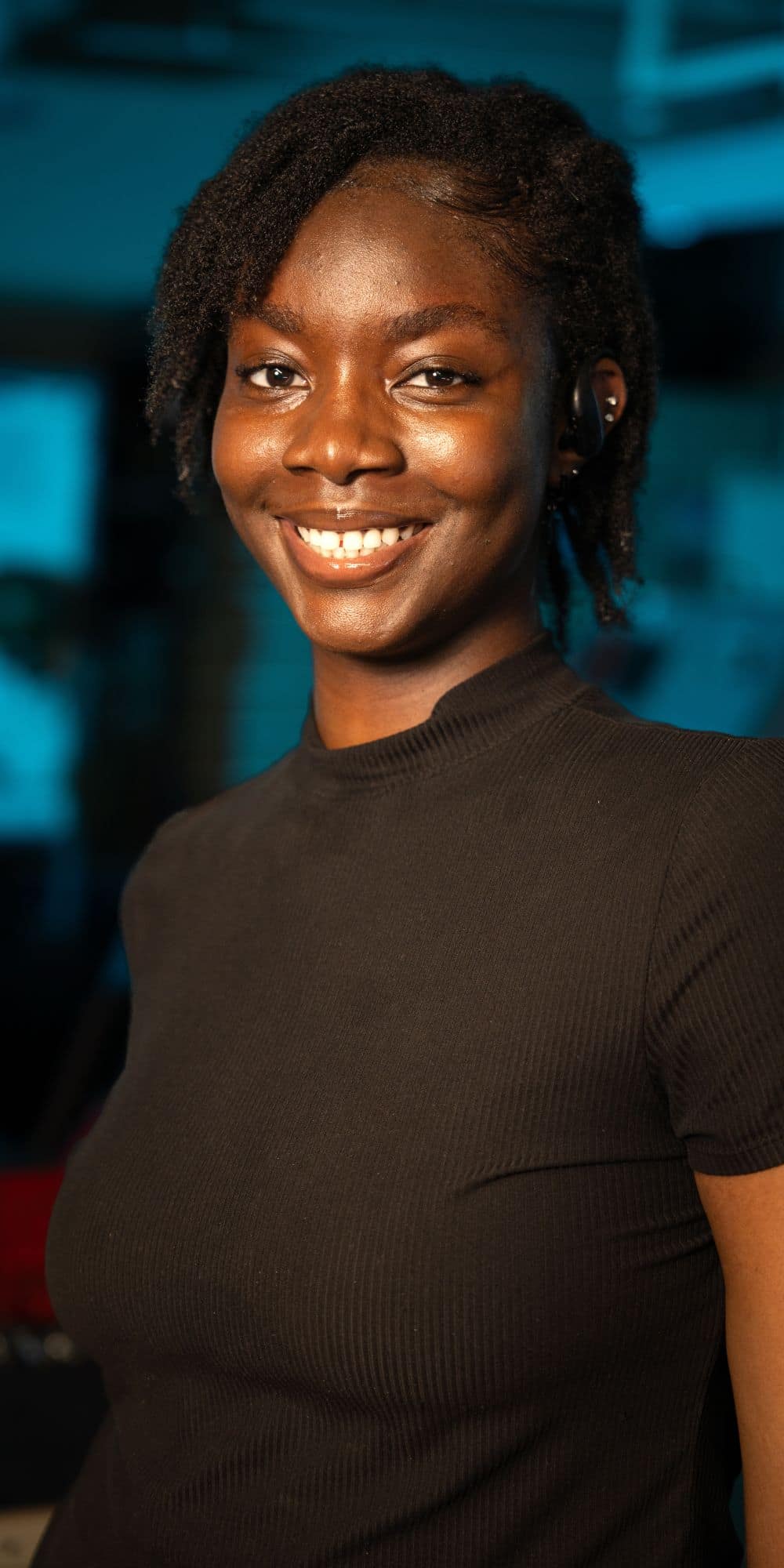 Portia Ani earned her Aviation Maintenance Science degree in 2023. (Photo: Embry-Riddle / Bill Fredette-Huffman)
Aviation Education at the Highest Level
Portia's aviation journey started in Nigeria, where she grew up and traveled often with her family. She vividly remembers being fascinated by the army of workers who descended on aircraft when they arrived at the gate and began to picture herself as one of them.
A stellar high school student, Portia set her sights on studying at a top aviation school in the U.S. and Embry-Riddle landed at the top of her list. She credits her parents with helping make it possible and once she was accepted, she has worked hard to make them proud.
Like any worthwhile pursuit, Portia's Embry-Riddle experience has had a twist or two. Initially, she majored in Aerospace Engineering but after two years, she realized she was more interested in troubleshooting aircraft than she was in designing them.
Portia said the school's faculty and staff helped ease the transition between majors, and once she got busy in the AMS program, she knew she'd found her home.
"I am very happy," she said. "I've been able to work on all types of engines and aircraft, from nose to tail. It's a different view of aviation and it's been fun working along with the friends I've made in the program."
Professional Networking That Works
Portia is presently a full-time member of the fleet maintenance team at the Daytona Beach Campus, helping to keep the school's training aircraft airborne. During summer 2023, she earned a scholarship from Flight Safety International and traveled to Dallas for several weeks to complete an initial maintenance course on the Dassualt Falcon 2000EX aircraft.
She credits AMS Instructor Jay J. Lacy, who is one of her mentors along with Associate Professor Mitch A. Geraci, with helping her nail down that opportunity.
"He pushed me to apply for it," she said. "He said: 'You'll be good for that. You should do it and it'll be good on your resume. It's a good experience.' That push is why I'm here today."
As she looks ahead to tomorrow, Portia is grateful for the academic knowledge, practical experience, life lessons and professional connections Embry-Riddle has helped her build so far.
"The knowledge I've gotten at Embry-Riddle is unmatched," she said. "Just the people who work within the system alone, the professors, everybody, they've all had some kind of background or experience in the aviation field, and they have their own connections. They know who to talk to. They are really wise. That's a big thing, and I don't think you find that everywhere."
Why Choose an Embry-Riddle Degree?
For anyone considering any degree at Embry-Riddle, Portia simply says: "It's really worth it."
Some of the key lessons she'll be leaving with at the end of 2024 include handling pressure, staying humble and keeping focused.
"Being humble is one of the biggest things," Portia said. "Also, learning how to deal with pressure is another. Obviously, going to school at Embry-Riddle, there's pressure from all angles. That's what helps you in the industry, because everywhere you go and anywhere you go, there'll be pressure and you learn how to deal with it by keeping focused on your goals. That's why Embry-Riddle is the best place for you to be."
Find out why you belong here. Apply at Embry-Riddle today.