A Free Online Introduction to Aviation Course
Are you interested in aviation?
Have you thought you might like to become a pilot?
Have you always dreamt of a career in aviation?
Whatever your motivation, AVIATION 101 is a great place to start! Enroll in this
FREE
online course, and proceed at your own pace to learn fundamentals that will give you a head start to your aviation career.
AVIATION 101
offers you more than just knowledge. Learn more about Embry-Riddle by visiting the
University's web site
About Aviation 101
AVIATION 101 is comprised of nine video lessons, which will introduce you to a variety of topics in aviation.
Aircraft Systems
Aerodynamics
Flight Instruments
Airports
Airspace
Radio Communication & ATC
Aeromedical
Aviation Weather
Performance and Navigation
No matter your age or your goals, whether you are taking your first steps toward an aviation career, or if you are an experienced pilot, AVIATION 101 has something for you! Be sure to share this course with anyone who may also be interested in aviation!
How does it work?
Enroll for free and proceed at your own pace. The course is divided into 3 sections, each containing 3 lessons and one section test.
Who can enroll?
Everyone with an interest in aviation is invited to enroll. This is a great opportunity for any high school student who is trying to choose a career and wants to learn more about aviation. It is also ideal for anyone who wants to explore the essentials of aviation, or for experienced pilots to review some of the basics. If you have a computer or tablet, and an internet connection, you can register and complete this course.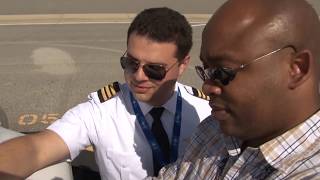 Play Video,
Aviation 101
Contact
Embry-Riddle Aeronautical University
Phone: 386-226-6100
Toll-free: 800-862-2416
Email: specialVFR@ERAU.edu
What do I receive if I complete the course?
Everyone who completes AVIATION 101 will receive a badge to mark his or her accomplishment.