Master of
Aviation Cybersecurity
With today's high-tech aviation industry presenting an appealing target for hackers, this program provides the skills to identify and mitigate cybersecurity risks.
Over the past few years, information on hundreds of millions of aviation customers has been stolen in cyber-attacks. In addition to data breaches, airports and aviation applications have also been targeted in ransomware attacks where information and services are made unavailable until a ransom is paid. Aviation experts have expressed concern over potential vulnerabilities in aviation technologies that communicate information between aircraft and with air traffic control and ground services without any authentication or encryption. This could allow the injection of false messages and ghost aircraft.
Embry-Riddle, an internationally recognized education leader in aviation and cybersecurity, offers the Master of Aviation Cybersecurity (MAC) degree program to both define and lead the field of aviation cybersecurity. The MAC program consists of 30 credit hours and spans the diverse, interconnected aviation ecosystem that includes avionics, in-flight entertainment systems, air traffic management systems, aviation maintenance systems, aviation supply chains, airport operations and aerospace operations.
Courses are offered fully online and may be taken in any order.
Highly credentialed faculty in the Department of Aeronautics have years of cybersecurity experience in the aviation industry and government and are experts in the study of identifying, assessing and mitigating cybersecurity risks.
Students are taught the fundamentals of the aviation industry, such as the air transport system and aviation maintenance, establishing a strong foundation to understand the aviation ecosystem. Students then learn the fundamentals of cybersecurity and cyber risk management and apply them to identify and mitigate cyber threats in the aviation industry.
Students benefit from the knowledge of fellow classmates, as the majority are fellow working professionals who bring their own experiences to the courses.
About Aviation Cybersecurity at the Worldwide & Online Campus
The Master of Aviation Cybersecurity (MAC) program at Embry-Riddle's Worldwide Campus prepares graduates to undertake cybersecurity leadership roles in the aviation industry. It examines cybersecurity in the context of the complex and interconnected nature of the ecosystem. This ecosystem spans aerospace areas such as:
Avionics
Air Traffic Management
Airport Operations
Aviation Supply Chains
Aviation Maintenance Systems
Internet of Things (IoT) and Operational Technology
Uncrewed Aircraft Systems
Aerospace Operations
The MAC is a 10-course, 30-credit hour program with no capstone that gives students a strong foundation in identifying and mitigating cybersecurity risks across the diverse aviation ecosystem. Taking two classes at a time, a committed student can complete the MAC in one year. At a more relaxed pace of one class at a time, students can easily finish in two years.
Who Is This Program For?
This program is for working professionals in the aviation industry who will have cybersecurity responsibilities. It is designed for students who have a basic understanding of computers and information technology. Graduates will understand the technical concepts behind cyber threats and risks and be able to communicate them to both technical and non-technical audiences effectively.
DEGREE REQUIREMENTS
Core/Major
ASCI 602

The Air Transportation System
3

MAVM 609

Aircraft Maintenance Management
3

MACY 515

Foundations of Aviation Cybersecurity
3

MACY 520

Aviation Cybersecurity Threats, Actors, Tools, and Techniques
3

MACY 525

Aviation Cybersecurity Risk Management and Resilience
3

MACY 510

Security Engineering and Management
3

MACY 516

Operational Technology Risks in Aviation - IoT, ICS, SCADA
3

MACY 517

Uncrewed and Autonomous Systems Cybersecurity
3

MSPO 515

Cybersecurity Applications in Space
3

MACY 526

Cybersecurity Standards, Laws, and Regulations
3
Total Credits
30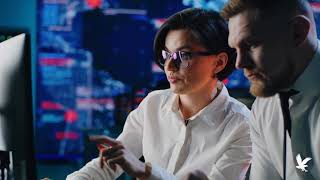 Play Video,
MS Aviation Cybersecurity