Airline Internship Gives Aeronautics Major Glimpse of Her Future
Aeronautics major Megan Gill's report on her internship with Horizon Air highlights the opportunities of an Embry-Riddle education.
This summer, I have jumped headfirst into several areas of the airline industry as well as assisting with several different projects, including an in-house training program, rewriting and editing technical manuals and teaching high school interns about being a pilot.
Working with the Flight Operations Training and Standards department at Horizon Air has given me invaluable experience and knowledge about how all different parts of an airline work together.
A Close Look at Flight Training Operations
I sat in on multiple training events, which gave me the opportunity to learn a great deal about the training process in an airline environment. I logged about six hours of time in the ERJ-175 full motion simulator and practiced jet operations including takeoffs and landings, missed approach procedures and loss of engine on takeoff roll.
The most exciting thing I have done through the internship so far was riding in the flight deck jump seat and seeing entire operation from the perspective of my future career.
I hopped on a trip from Paine Field in Everett, Washington, to Santa Ana, California. There were two captains aboard the flight (one of them was transitioning from another aircraft into the ERJ-175), which made the trip very educational as they spent time in cruise flight discussing the aircraft's systems.
All these experiences helped me realize that being an airline pilot is not an unachievable goal.
Going through some of the training also has built up my confidence as a pilot. I have been able to see that the only thing that really changes when you go from a Cessna to an Embraer is that the numbers get bigger (altitude, airspeed, weight, etc.). But the basic principles are still the same as far as making the airplane fly.
How Does a Daily Airline Operation Work?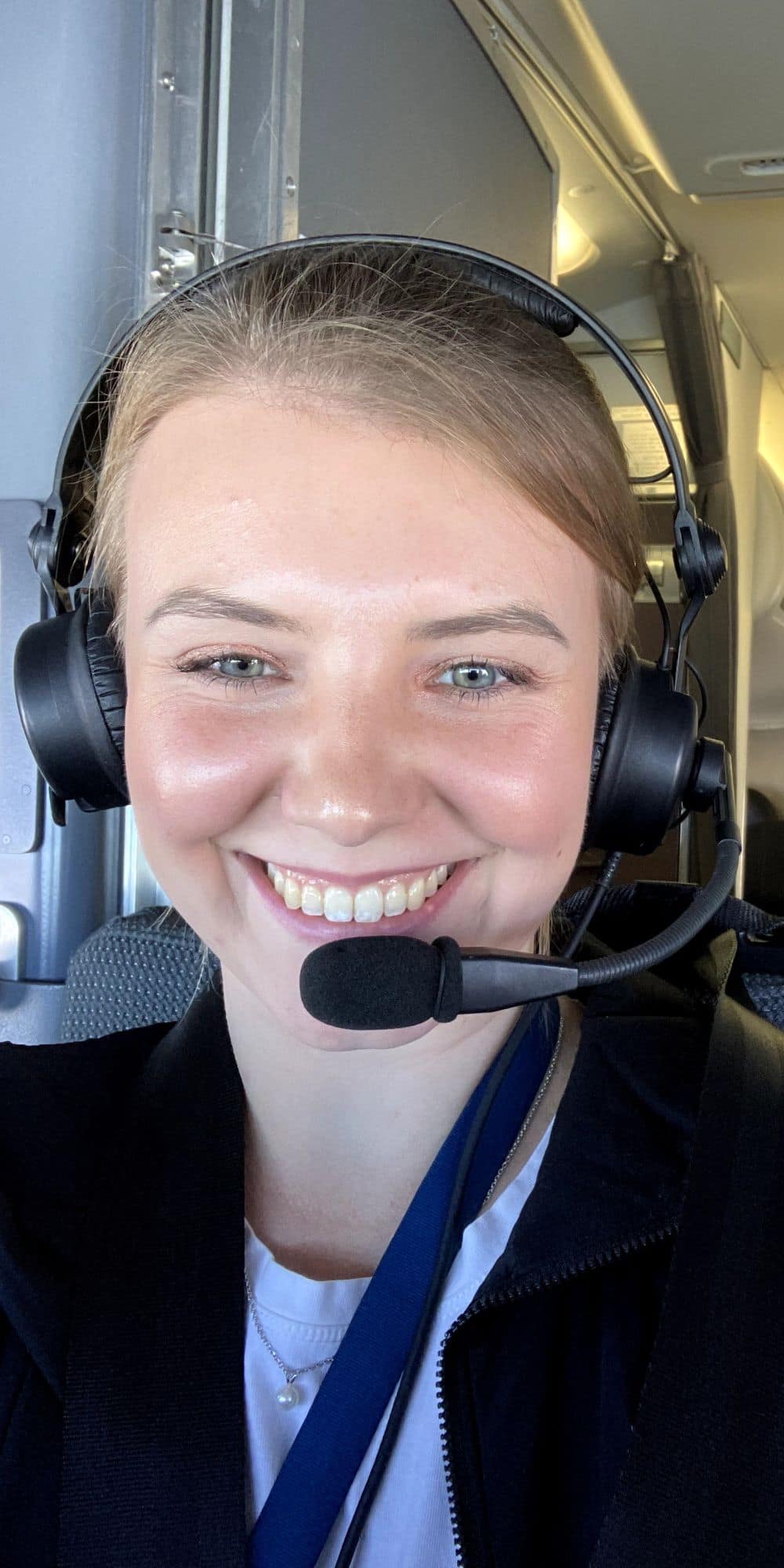 Megan Gill is all smiles as she gets ready for another leg of a trip on the flight deck of a Horizon Air ERJ-175. (Photo: Megan Gill)
I have also had the opportunity to spend time shadowing people in several different departments to get an idea of how the airline operates holistically.
I spent time with dispatchers, load planners and maintenance coordinators, learning how the day-to-day operation is managed. I was able to see how it starts with crew scheduling and maintenance, who plan out which crew will fly which route and what airplane they will be using.
From there the flight planning is sent over to the dispatchers, who determine the point-to-point route depending on weather, potential delays, fuel requirements, alternates and traffic. Once the dispatcher writes up the release, the central load planning department makes sure that the aircraft's center of gravity is within limits as the customer service agents and flight attendants send in the final counts for passengers and bags.
I shadowed the head of training scheduling, which provided fascinating perspective on how much coordination it takes to schedule a single training event and the effort that goes into keeping pilots current.
I also spent a day with ground agents in Billings, Montana. It was fascinating to see outstation operations as there are only about five employees who do ALL the work. The agents are responsible for checking bags, loading the aircraft, wing-walking, pushback, boarding passengers, fueling and deicing.
Contributing to Manuals and Technical Publications
In addition to job shadowing and training, I have assisted in several projects, the largest of which was helping bring ATP-CTP in house instead of sending new hire pilots to Texas to get their certification.
Earlier this year, Horizon Air moved to a single fleet; they sold all their Q400 turboprop aircraft and are now flying only ERJ-175s. This means that the company is now playing catch-up with manuals that still refer to the Q400, so another part of my job this summer has been to comb through all the old manuals and remove outdated references.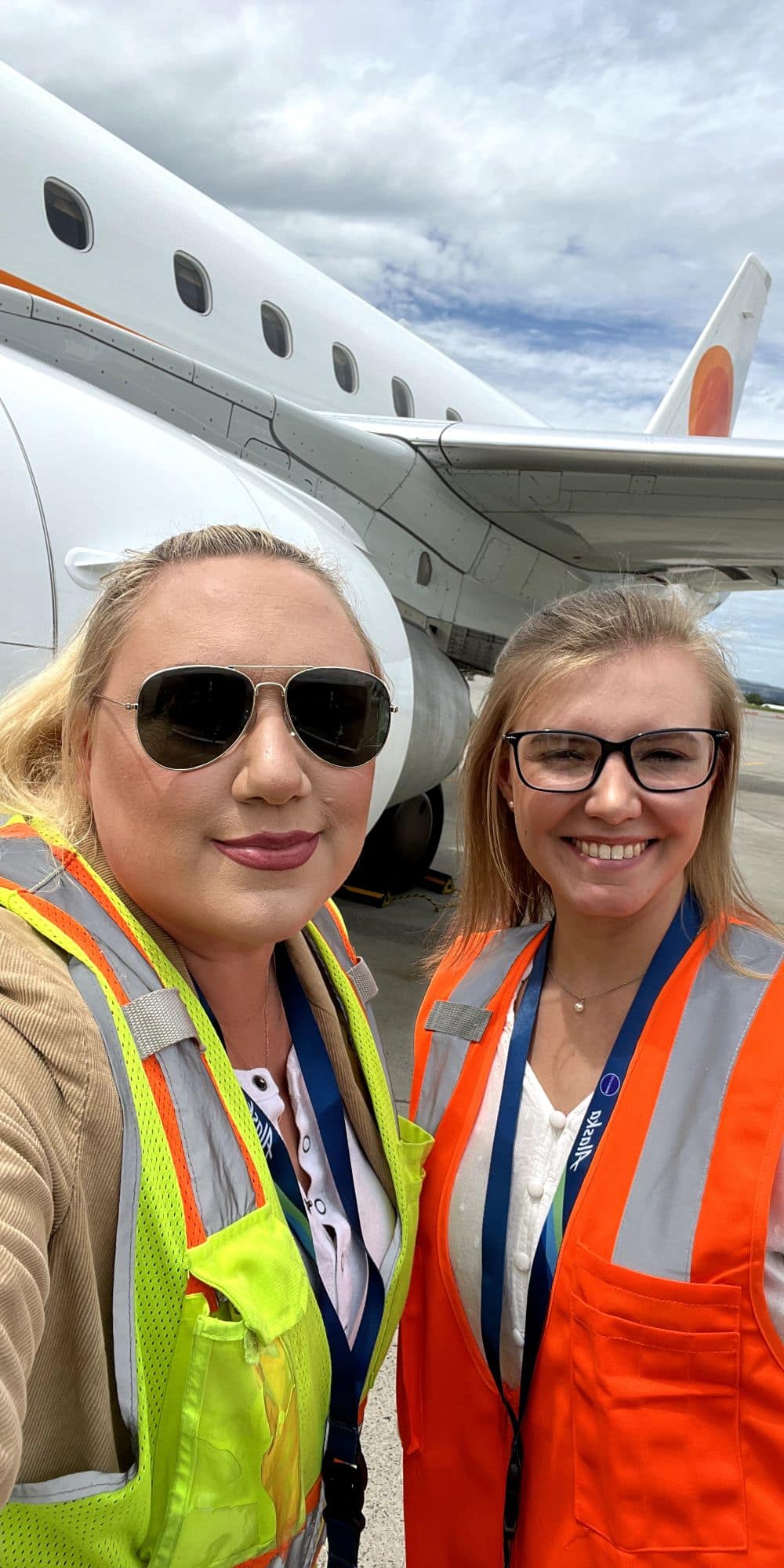 Megan Gill (right) and a fellow intern worked alongside the Horizon Air ground crew in Billings, Montana. (Photo: Megan Gill)
The Travel Perks of Airline Life
Another part of the internship involved going out and travelling, which is one of the great benefits of working at an airline. I have been able to hop on flights all over the country on my time off, which has allowed me to see operations at several different airports including Seattle, Portland, Phoenix and Atlanta, among others.
Horizon Air's headquarters is split into two locations: Seattle and Portland. This means I also spent a significant amount of time flying between the two locations.
This experience has given me a new appreciation for the cooperation it takes as employees get sent back and forth between different locations. It has also built up my confidence navigating various airports and given me insight into the typical lifestyle of an airline pilot.
An Intern Helping Interns
Horizon Air has a partnership with a high school in Hillsboro, Oregon, and brings in a few high school students from their aerospace program for a three-week internship. I had the opportunity to work together with my fellow flight ops intern to create an itinerary for them.
We scheduled tours and events, produced projects to assign them and I am also creating a series of mini lectures to teach them more about the industry.
This experience has helped me grow a lot in my knowledge of aviation and teaching and is helping me get ready to be a CFI. It has also led me to discover a passion I did not know I had for teaching and sharing my love of aviation with younger pilots.
One Amazing Summer Adventure
I have learned more than I could have possibly hoped about the airline industry, as well as about Horizon Air as a company. It has given me remarkable opportunities to grow in my knowledge and passion of aviation, and even share that passion with others.
I have learned what types of things I want to look for when choosing an airline company to work for in the future and I am hoping to get a chance to stay on at Horizon Air in the future.
What did you do this summer? Apply at Embry-Riddle today.