How to Become a Pilot
Embry-Riddle can help you become a pilot while providing a well-rounded aviation education in a university setting.
Pilots are in high demand in the United States, with the U.S. Bureau of Labor Statistics anticipating a need of more than 18,000 new commercial and airline pilots each year for the next decade. Be part of the next generation of pilots at Embry-Riddle Aeronautical University.
Being a pilot is an adventurous endeavor, an exciting career and a valuable investment into your future; however, it also requires a substantial amount of time and energy. Embry-Riddle is a highly respected school in the aviation industry and a fantastic place to work toward your dreams.
"You will be able to stand up in the industry and people will know who Embry-Riddle is and what your training means and what you bring to the table," says Parker Northrup, Chair of the Flight Department of the College of Aviation on the Prescott Campus.
Mapping Your Flight Plan
As you set your sights on becoming a pilot, there are some questions you should ask yourself. What are your goals? Do you want to fly jets for major airlines or single-engine planes for fun? Do you have any flight experience or know a pilot? Are you ready for the time commitment and responsibility?
There are three levels of pilot certificates: private pilot, commercial pilot and airline transportation pilot (ATP). A private pilot can fly with friends and family but cannot be paid for flying. A commercial pilot is paid to fly, but has more restrictions than an airline transportation pilot, who often flies for major airlines. An ATP is required for all airline pilots.
What it Takes to Become a Pilot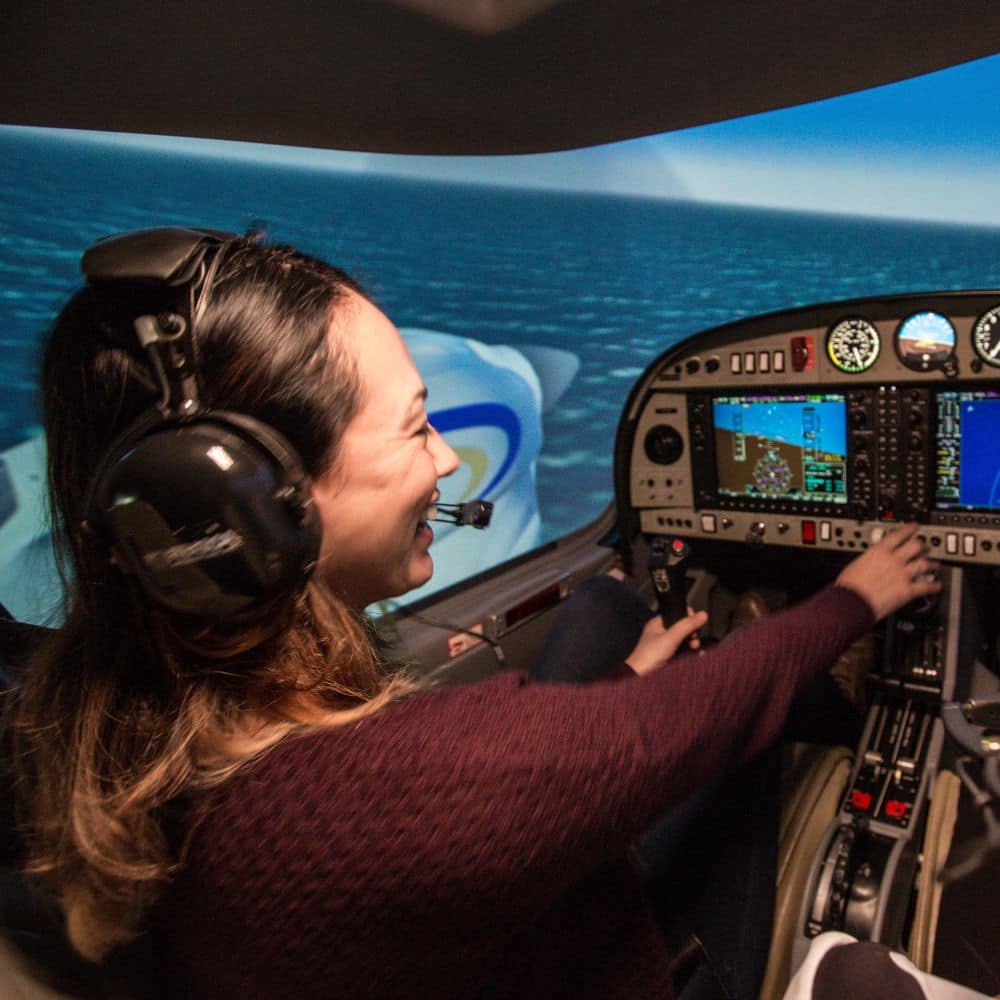 Diamond DA42 Flight Simulator, at Embry-Riddle Aeronautical University in Daytona Beach, Florida. (Photo: Embry-Riddle / David Massey)
Northrup recommends students interested in flying to have at least 10 flight hours in a small aircraft before they start at Embry-Riddle, but it's preferable for students to come in with their private pilot certificate, which approximately 18% of first-year students do.
"Having the private pilot certificate upon arrival to ERAU is advantageous as it places the student directly into more advanced flight training and allows them to complete all of their flight training requirements sooner within their academic career," said Kenneth P. Byrnes, Chair of the Flight Department of the College of Aviation on the Daytona Beach Campus.
It's also important for students to come into the flight program with a plan. The program requires diligent time management and can be a challenging transition on top of other coursework.
The required major for students who want to fly is Aeronautical Science. Required courses vary slightly by campus, but include private pilot certification, instrument rating, commercial certification and multi-engine flight. Our Florida campus also offers training in a regional jet full motion simulator, while Arizona offers a helicopter specialty. Both campuses give students the opportunity to become flight instructors on campus.
Preparing You for Major Airlines
Making the decision to attend a university over alternative routes to becoming a pilot is a wise choice.
"At Embry-Riddle we don't simply train pilots," Byrnes added. "We develop aviation professionals who are highly skilled, have great knowledge, have quality experience and the right mindset toward safety and professionalism. We infuse feedback from industry, as well as information and techniques we have learned through research to ensure that our students are the highest quality, most professional aviators in the business! Our graduates have the tools required to have a positive impact on the industry."
While major airlines do not require a bachelor's degree, most of them prefer it. We are an AABI (Aviation Accreditation Board International) accredited and FAA part 141 certified institution, meaning we offer a structured, syllabus-led program that produces professional-level pilots with bachelor's degrees.
With a typical flight school you might find at an airport, you would need 1,500 flight hours to become an airline transport pilot, but as a restricted ATP authorized institution, Embry-Riddle students only need 1,000 flight hours to qualify.
Another benefit of a university degree is the degree itself. In the event of a medical issue or a disruption like a pandemic, a pilot with a bachelor's degree has skill and knowledge that is still useful to airlines and other parts of the aviation industry in a multitude of other ways.
Pilots are held to a high medical standard, and Northrup says, "pilots are one medical away from losing their flight status … a college degree gives you the insurance against a medical turn that you can't foresee when you're 18 years old."
An education from a 4-year university will also better prepare you for inevitable technological advances in the future.
The Sky's the Limit
It's important to know your passions when getting started on this journey. The best-equipped students are self-driven in their convictions and prepared for the continuous learning and self-improvement needed as a pilot.
"It's okay if you didn't grow up around aviation and know everything about airplanes," Northrup said. "You can come to love aviation as an adult, especially here at ERAU, where everything is aviation all the time. I promise, if you want to try it out and see what it's like, we are here to do it with you!"
A great place to start your aviation education with Embry-Riddle is with our FREE online Aviation 101 course. Over nine video lessons, you will learn about the basics of aviation and see what your future may hold.
If you're ready to take flight, learn more about what Embry-Riddle has to offer.