Stars Align for Recent Communication Grad
Katy Thompson ('21) graduated with her Bachelor of Science in Communication in May and received the Outstanding Graduate Award for the program – along with a full-time job offer.
An accomplished high-school softball player, Thompson was introduced to Embry-Riddle when she was recruited for athletics. Creativity and a love for writing drew her to the university's Communication degree.
"People think about communications and, though it's not exactly flight, it's still just as exciting every day because there is something new you're learning or working on," she said.
As for how Thompson found her way to Higher Orbits, "it's kind of a funny story," she said.
Thompson's initial summer internship was unfortunately one of many that were cancelled due to the pandemic. Luckily, a faculty mentor had a solution.
This was how she was introduced to Michelle Lucas ('00), a fellow graduate of the program and the founder of Higher Orbits, who just so happened to be looking for an intern.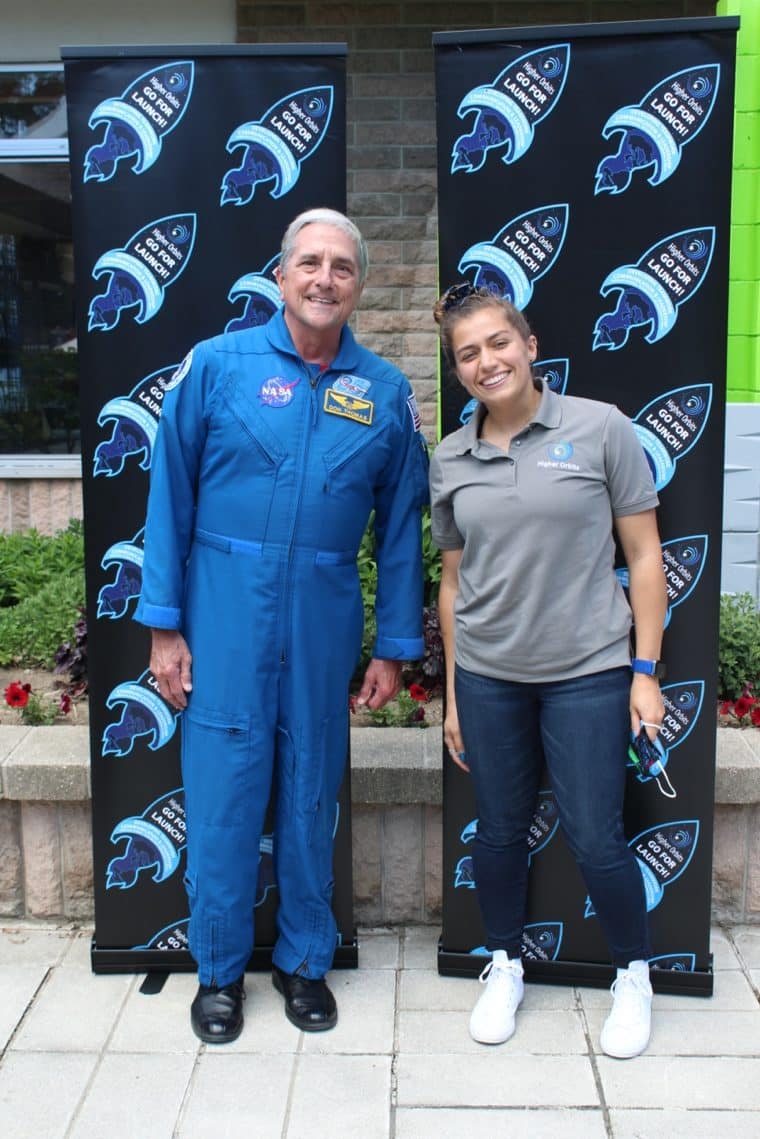 At "Go For Launch!" events, Thompson and her team bring in NASA astronauts to work with the students. (Photo: Katy Thompson)
Thompson jumped right in and began assisting with programs like "Go For Launch!" and "Space at Home," two of the nonprofit's experiential outreach initiatives that use spaceflight to engage and inspire students nationwide with an interest in STEM.
"Michelle was really great at helping me through some of the initial challenges, especially with working remotely," she said. "We built a really strong relationship although we were states apart."
The summer position was extended throughout Thompson's senior year. With graduation just around the corner, she was offered the role of communications director.
Much of her work now includes the strategy behind and promotion of the organization's in-person and online programs. She applies her training in writing, graphic design and photography to create print materials, social media content and more.
"Whenever we travel, I'm there taking photos of all of the astronauts, students and the experiments they're working on," she said.
She attributes her success to the Communication program's unique curriculum. Throughout her four years as an Eagle, Thompson had a different "dream job" each year and the chance to complete assignments unique to her interests in the sports, environmental science and even business sectors.
"The department opens you up to so many different paths," she said. "When it came to what you were really ready to dive into, you were all the more ready because you had experience in so many different fields."
Having found her niche in the space industry, Thompson is excited for what the future holds.
"I've been so fortunate, and I'm so grateful things turned out the way they did."