Where Are They Now?
With an Aeronautics Degree from Embry-Riddle, this pilot is getting closer to his goal of a career on the flight deck.
Aeronautics Degree Helps Him Chart a Course Toward Success
For Juan Andres Mesa Sanchez ('21), earning his B.S. in Aeronautics from Embry-Riddle's Worldwide Campus was a giant leap toward his goal of becoming a professional pilot, a journey that was originally showcased in this 2020 story in the Embry-Riddle Newsroom.
We recently caught up with Juan to see how his aviation career journey is progressing and how his degree is helping him.
How did choosing an Embry-Riddle aviation degree advance your career?
When my family and I moved to the United States from Colombia nearly a decade ago, many people told me about Embry Riddle's world-class curriculums for aspiring leaders in the aviation industry. As a young adult, I encountered aviation professionals who unanimously advised I should attend the university for its experience, resources and ability to produce exceptional graduates that are well-versed in all things related to aviation.
What next steps are you taking now in your aviation career?
Being the first pilot in my family has made my career path one that I had to discover on my own. With the help and support of the mentors that I have had throughout this journey, I am now in a position where I am completing my training and all the required certifications that I need to meet FAA regulations for flight time and experience.
How is your aviation degree helping you take those steps?
My aviation degree has taught me about key aspects of the industry, such as safety, management and an advanced comprehension of aeronautics. It has also helped me to look at the "bigger picture" and also to analyze, understand and apply the details and parts of what make that big picture.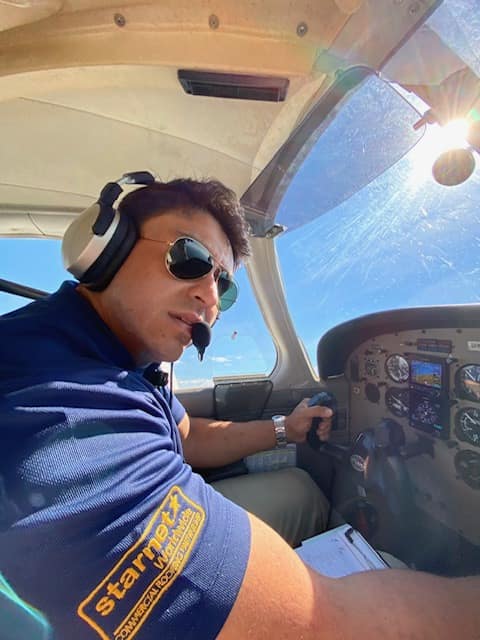 B.S. in Aeronautics graduate Juan Andres Mesa Sanchez at the controls of an aircraft. (Photo: Juan Andres Mesa Sanchez)
What are your aviation career goals?
Being part of the aviation community has always been a dream, but in all honesty becoming a professional aviator is my ultimate career goal. I want to be a leader who pursues new, cutting-edge discoveries that positively impact the aviation industry. Additionally, I want to continue to grow my set of transferable skills that I have built through the years to make myself a valuable asset to future employers.
How is an Embry-Riddle aviation degree helping you reach that goal?
Embry-Riddle's unique ability to provide an unmatched educational experience has made the steps needed to achieve my dream both realistic and efficient. Embry-Riddle offered me a variety of opportunities in a comfortable learning environment. Especially for a non-traditional student, Embry-Riddle provided demanding, challenging and rewarding academic experiences while still allowing me the flexibility to work my education into my everyday life. Throughout the curriculum, I continued to develop a strong work ethic and critical thinking skills, along with better time management and the ability to adapt. These aspects of Embry-Riddle are what was necessary for me to continue growing personally and professionally.
What advice would you give someone considering Embry-Riddle's aviation degree programs?
Aviation is a field of endless opportunities. Any goal one sets in this industry is achievable with dedication and skill, and Embry-Riddle provides a wealth of resources and experienced educators to help their students in this pursuit. As someone who grew up an ocean away in a country where dreams like mine are much less realistic, I can attest to how impactful this institution can be in helping someone make their dreams a reality.