The Embry-Riddle Research Park, adjacent to the campus in Daytona Beach, Florida, provides a nexus between the university's intellectual and technological recourses, and the partner enterprises that benefit from unprecedented support.
It creates a technology-focused ecosystem bringing together university researchers and students with businesses, entrepreneurs, and start-ups, providing a foundation to start or grow their enterprise.
The goals of the Research Park include increasing the university's research capabilities and collaborations with industry, aiding tenants and start-ups in bringing new innovations to market, and stimulating economic development.
Stephanie Miller, Ph.D., M.B.A.
Executive Director, Technology Transfer and Research Park Initiatives
Areas of Focus
Embry-Riddle, a world renowned university, is equipped for and experienced in research, specifically associated with its seven areas of focus:
Unparalleled Location
#1 state for aviation manufacturing attractiveness (PricewaterhouseCoopers)
#2 state for aviation, aerospace and space establishments (U.S. Dept. of Labor)
Two licensed spaceports, 20 military installations and 100-plus public use airports
The John Mica Engineering and Aerospace Innovation Complex
The MicaPlex presents a unique collaborative opportunity for business and the university community to develop, refine and bring new products and technological services to market.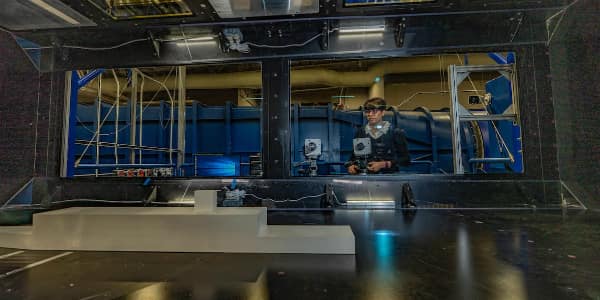 The Wind Tunnel Facility
Housed in a dedicated 14,000-square-foot building, the Wind Tunnel Facility is a $10M state-of-the-art, low-speed tunnel located on the research campus of Embry-Riddle Aeronautical University.
Applied Aviation and Engineering Research Hangar
The Applied Aviation and Engineering Research Hangar will provide more than 7,500 square feet of flexible lease space for corporate and research partners.