UAS: Boldly Going Where No Drone Has Gone Before
Embry-Riddle offers Unmanned Aircraft Systems (UAS) students opportunities to participate in innovative and impactful research opportunities.
Unmanned Aircraft Systems (UAS) major Jose Cabrera's ('22, '24) reason for choosing to attend Embry-Riddle Aeronautical University was simple.
"Embry-Riddle is the premier aeronautical university in the world."
And why UAS?
"UAS is the next frontier, and I want to leave my mark in the industry, whether it's research, building UAS or developing the next generation of UAS technology," he said.
Cabrera has made effective and impactful use of his time at Embry-Riddle, leading a number of cutting-edge research projects whose foundations in UAS technology are catapulting the field into the future.
UAS Research Opportunities
He was the team lead for a research project that explored how weather predictions affect flying small, un-crewed aircraft systems (sUAS) in populated areas, the goal being to test UAS delivery potential along simulated delivery routes.
"Micro weather forecasting is essential for paving the way for drone delivery and air taxis," Cabrera explained. "Soon, hundreds of aircraft will fly low in heavily populated areas, so this research is vital to the success of this new industry."
Extreme weather has a dramatic effect on the farming industry, and UAS technology is empowering farmers to help recover from and reduce the effects of extreme weather by using drones to survey land complement supply satellite imagery, giving farmers helpful information they can use to minimize damage to crops in the future. It was a project near and dear to Cabrera's heart because the research took place in Puerto Rico, reminding him of his roots.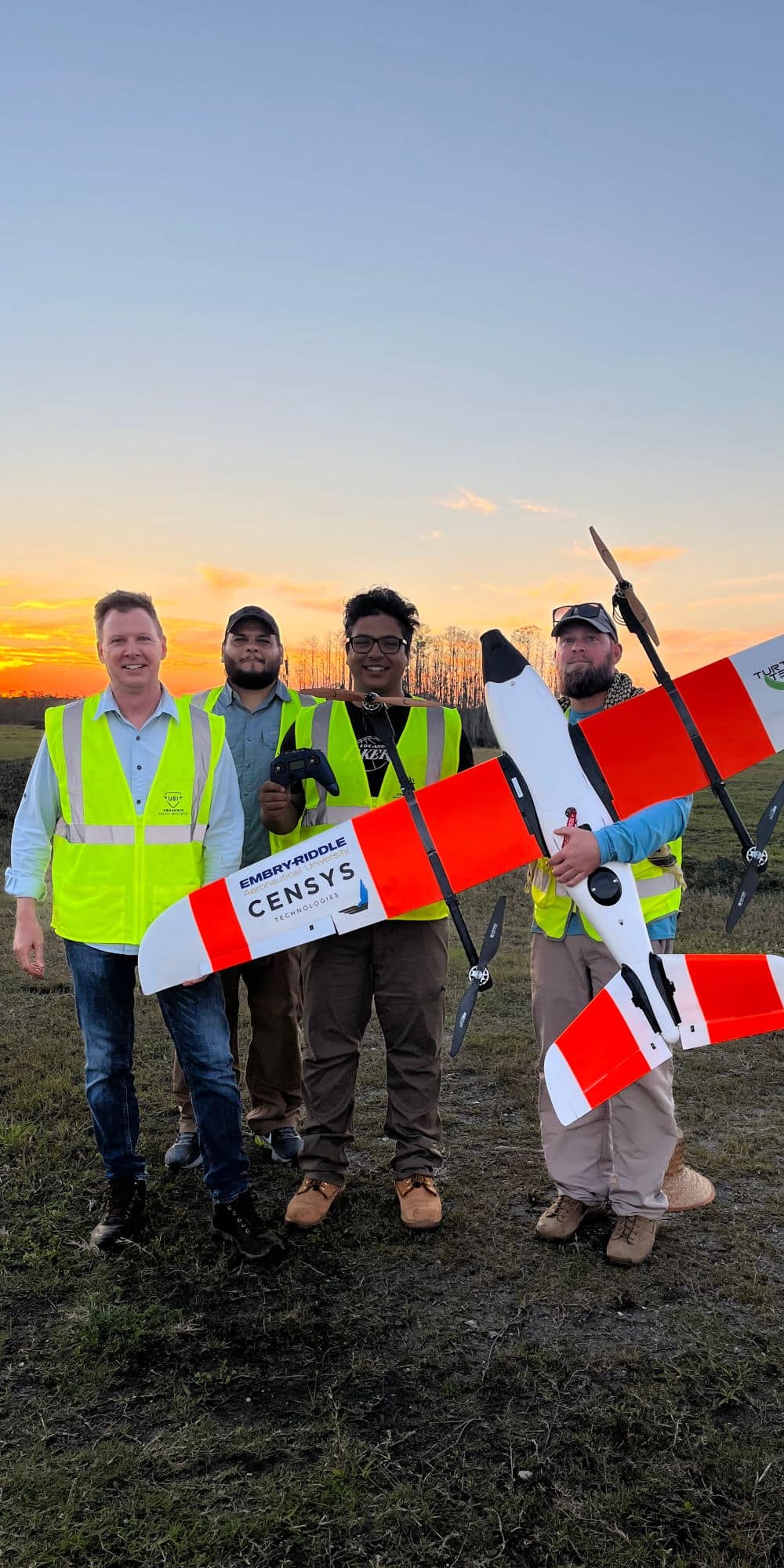 UAS student Jose Cabrera ('22, '24) standing beside his peers and colleagues holding an uncrewed aircraft system used to observe endangered sea turtle behavior. (Photo: Jose Cabrera)
"My grandparents came from the farms of Puerto Rico for a better life in the United States," he conveyed. "The happiness I feel to see the beautiful landscape and give back to the community my grandparents were a part of is breathtaking and fills me with pride."
Cabrera also led research efforts for the Turtle Tech project, tracking endangered sea turtle behavior off the coast of Florida, as well as prescribed fire research which consisted of flying drones over controlled burns collecting atmospheric data which he said will "have a big effect on not only public safety, but also make it safer for firefighters that put their lives on the line every day."
Additionally, Cabrera has lent his voice as a Bird Strike Committee speaker discussing "how UAS technologies could be safely and effectively applied to identify hazardous wildlife species to aviation operations as well as potential wildlife hazard attractants within the airport jurisdiction."
With all this experience under his belt, Cabrera plans on using his skills and knowledge for the greater good.
"I love solving problems, so I think that is how I would use [UAS], whether it is research or development," he stated. "I will use the skills learned here to help the UAS and aerospace industries and humankind as a whole."