M.S. in Leadership: Embry-Riddle's Next Aviator
M.S. in Leadership student Nick Jacobs looked to the skies for a career change chasing his childhood dream.
For M.S. in Leadership student Nick Jacobs ('23), switching his career trajectory was a daunting prospect, but he knew he had to pursue his dream.
"I had a long career in law enforcement, and I decided that I wanted to make a change and chase a childhood dream," he said.
That turning point came while he was working with the federal air marshals' program as a firearms instructor training pilots, one of whom pulled him aside to tell him he was wasting his talent and should pursue becoming a pilot. That pilot ended up paying for his Discovery flight, also known as an introductory flight, which paved the way for Jacobs to take the first steps in fulfilling his dream.
"I ended up leaving being a police officer and going to flight training," he said.
And just where did this dream of becoming a pilot come from?
"Watching Top Gun, I'm not even joking," Jacobs said with a chuckle. "Fast jets. The uniform. The patches. The sounds. Everything."
The Start of His Aviation Journey
Jacobs began his career in aviation as a security compliance officer for Spirit Airlines, where he gets to blend both his detective and aviation skills. However, he admitted to being nervous and scared about leaving a career he loved.
"You get comfortable, especially if you're good at it," he explained. "You have that sense of purpose; you're helping someone. Going into the corporate world is very different."
But Jacobs knew he made the right choice.
"Probably the scariest, but I would say the best decision I've ever made in my life," he said confidently.
He also knew that merely working in the aviation industry wasn't enough for him to fulfill his pilot dreams; that in order to advance, he needed to further his education.
"I was looking to get the biggest return on investment for a master's program, and I needed to gain a little more experience when it came to management and people skills," he admitted.
Jacobs took several factors into consideration when choosing the right graduate school, one being the school's reputation in the aviation sector.
"I'm already in the aviation industry working here at Spirit, so I know the strength that the Embry-Riddle alumni network has," he stated.
Jacobs is currently taking his last class for his online master's degree program before he begins his Capstone project. One of the highlights of his experience has been learning from industry experts. He praised his professors saying, "They've been CEOs. They've been CFOs. They've been in operations. They've been change managers. They've been all those things we talk about in class, and they can give their own personal story on those things to see how we can apply it."
Jacobs has also taken full advantage of the vast networking opportunities that have presented themselves during his time at Embry-Riddle both in and out of the virtual classroom.
"That's the whole point of graduate school; it's to build that network if you haven't already, and if you have that network, you continue it," he said. "You're going to run into these people. You never know, especially in the aviation community. It's so large but it's so small."
Even before he walks across the stage to receive his diploma, Jacobs is already applying what he's learned in his courses.
"I wouldn't have been able to make some of the tactical and strategic decisions that I've made over the last year plus without this program," he reflects. "I have learned the big picture decisions that managers make, and I didn't have an understanding of that before."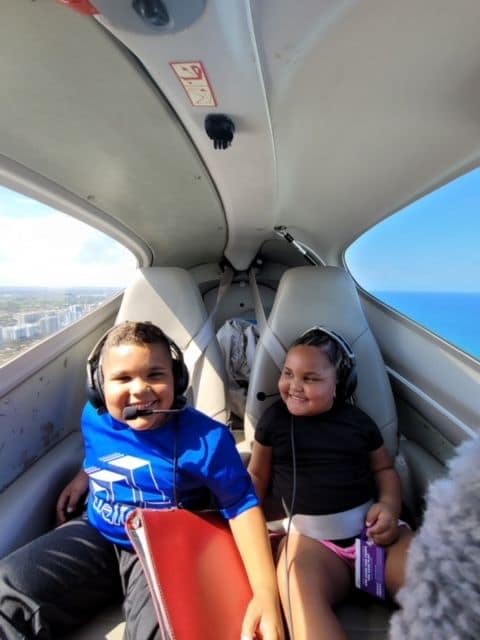 Jacobs' children enjoy a flight along with their father. (Photo: Nick Jacobs)
Family Support
Jacobs includes his children among his biggest cheerleaders on this journey.
"My kids are a good support system because they want to sit next to me and do their homework, and I actually get to try out some of the leadership stuff with my son," he said intently. "He plays lacrosse, and he's at that level now where he doesn't really need me to hold his hand when it comes to coaching. It's more a thing of, 'okay, you're the leader of the team. How are you going to figure this out? How are you going to motivate these other [kids] to do what you need them to do and win the game?'"
What would be his dream job?
"I'd like to be either the director of operations or chief pilot for a large corporate flight department." Not forgetting his most important role as a dad, he added, "And I'd also like to coach lacrosse on the side."
While he works full-time and attends classes, Jacobs is only able to fly enough to keep his pilot's license current but has plans once his studies conclude.
"After I finish my master's program here at Embry-Riddle, I will go back to flying fulltime," he said excitedly.