Embry-Riddle Student Helps Launch World's First 3-D Printed Rocket
Kirsten Bauernschmidt is earning an M.S. in Human Factors at Embry-Riddle and is on the team at Relativity Space that launched the world's first 3-D printed rocket.
Kirsten Bauernschmidt ('23) graduated from Embry-Riddle with her bachelor's degree in 2021, with a major in Spaceflight Operations and a minor in Human Factors, the latter of which she chose to study in-depth for her master's degree.
During her professional development journey, Bauernschmidt has worked as an intern for the U.S. House of Representatives Aviation Subcommittee, as an ATO Space Operations intern for the Federal Aviation Administration (FAA) and now as a Government Affairs intern at Relativity Space.
In her current position, Bauernschmidt works as a Range Coordinator, who functions as a liaison between government regulatory agencies (like the Space Force and the FAA) and her employer. Her main responsibility is to ensure her team is functioning in compliance with all launch and rocket regulations.
"We have to stay compliant with several regulations... On console, I sit as a Range Coordinator (RC) in the firing room where vehicle commands are sent," she shared. The RC interfaces with all issues on the Range that may impact the launch, such as weather, instrumentation, air/sea surveillance and more.
"The FAA and our Range partners also sit on console for launch to monitor compliance and help us maintain a safe launch configuration..." she continued. "There are a lot of things I do. That's what makes it so exciting."
At Relativity Space, Bauernschmidt just helped launch the world's first 3-D printed rocket.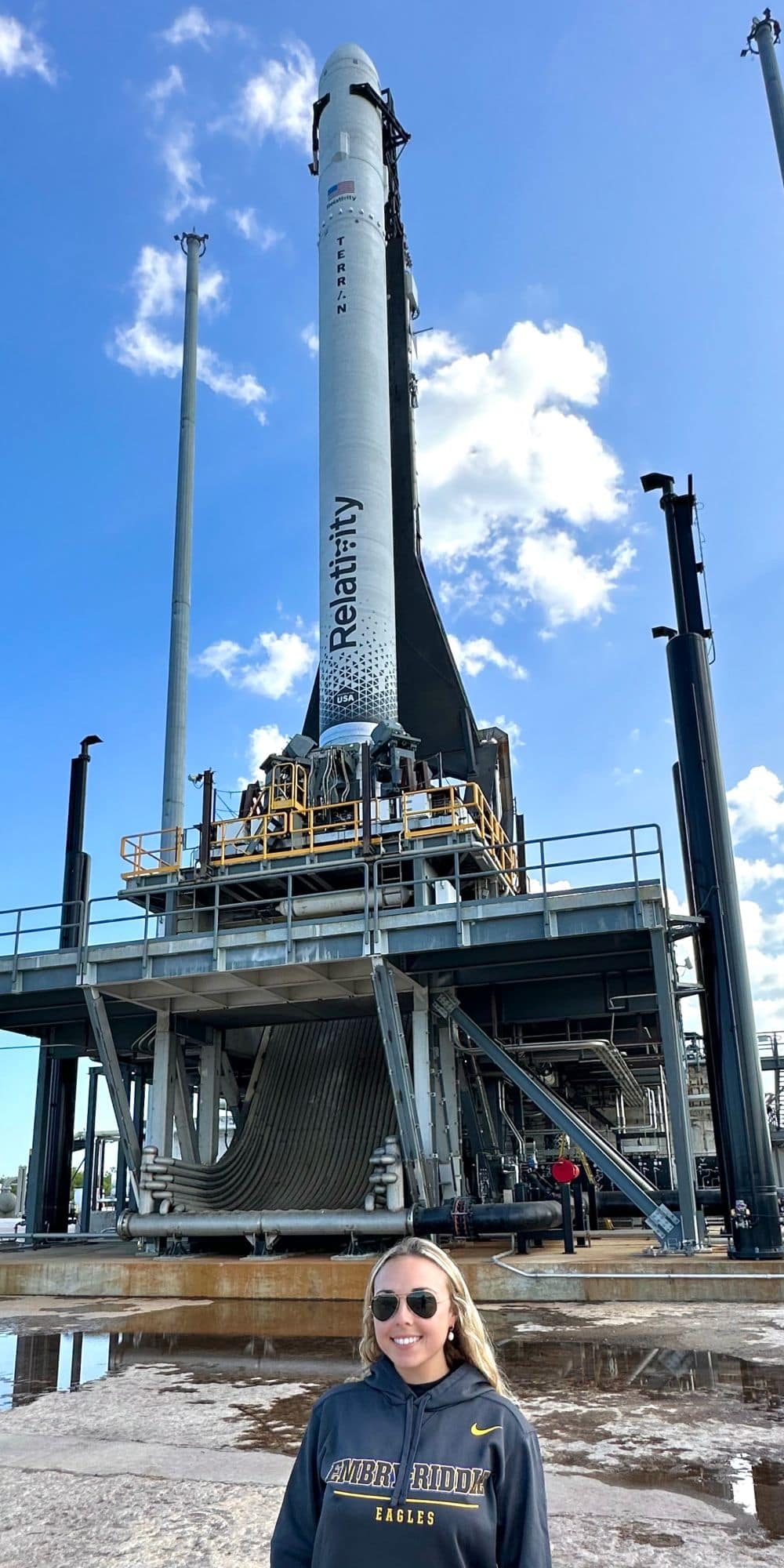 Kirsten Bauernschmidt with Terran 1, the world's first 3-D printed rocket. (Photo: Relativity Space / Kirsten Bauernschmidt)
Why Launch a 3-D Printed Rocket?
Bauernschmidt cites a few reasons why 3-D printed rocket technology is valuable.
"It's truly innovative. A lot of companies use 3-D printing for smaller parts because it's easier than ordering it and waiting. We decided to go big with that," she shared. "It's 100x fewer parts manufacturing-wise and 10x faster production because we can print things as one piece versus buying multiple components off the shelf."
On top of streamlining the manufacturing process, 3-D printed rocket components offer a sense of project security because if a part breaks, they can print another. It also allows for greater ability to test and replace different components to continuously improve functionality. Terran 1, the rocket at Relativity Space, was 85% composed of 3-D printed materials.
On Relativity Space's third attempt, Terran 1 successfully launched. The main indicator of success? Terran 1 passing Max-Q, which produces the maximum amount of stress on the rocket.
The World of 3-D Printed Rockets
Next, the team at Relativity Space will begin work on Terran R, a reasonably larger rocket, whose "R" stands for reusable. The next goals are for the rocket to be able to transport medium to large payloads and to begin launching satellites and other payloads for clients.
Bauernschmidt's plans are intertwined with the production of Terran R.
"It's crazy to even say this, but I'm in the perfect dream job I've always wanted. I've wanted to be on the government side of things but also boots on the ground at the pad. And I never really knew how I could do that. Somehow, I opened this door." Bauernschmidt said. "I just want to stay here and see what's next for Terran R... the future is staying here. For as long as possible."
The Embry-Riddle Advantage
Bauernschmidt also gave props to her Embry-Riddle education.
"I have to give Riddle credit for giving me the opportunity to have my first internship on the Hill with Congress, which ultimately got me here," she gushed. "That has been more than I could ever ask for: giving me the opportunity to have the best job in the world as an intern and, hopefully, forever. It's put me in a position where I'm going to be able to do really cool things."
Her advice to other students wanting to end up in their dream jobs: "Follow your passion and get internships!"
You can watch the Terran 1 launch by clicking here!