Tragic Legacy Fuels Aviation Safety Quest for Newly Minted Ph.D.
This Eagle's dedication to aviation safety has a deeply personal history.
Embry-Riddle Aeronautical University helped Marisa Aguiar turn a monumental tragedy into a lifesaving mission.
Marisa Aguiar ('16, '21) recently earned her Ph.D. in Aviation to go along with her M.S. in Aeronautics and is now focused on helping prevent aircraft accidents like the one that claimed her father on Halloween in 1994.
"Embry-Riddle has allowed me to do something I could have never done otherwise," said Aguiar, 28.
She was just over a year old when her dad, Simmons Airlines Captain Orlando Agiuar, died with 67 others when their French-made ATR 72 – operating as American Eagle Flight 4184 – crashed into an Indiana field near the end of a trip from Indianapolis to Chicago.
"It had a tremendous impact on my mom," Aguiar said. "She was 24 and pregnant with my sister and it has never been easy for her. But growing up, we didn't talk much about my dad or what happened. Him not being there was just normal."
Aguiar had no real interest in aviation and no clue what she wanted to do with her life, even after she earned her Psychology degree at University of Central Florida. That all changed in 2014, when she and her mother attended the dedication of a memorial on the 20th anniversary of the crash.
It was there Aguiar met Embry-Riddle alums Charley Pereira ('89) and Greg Feith ('81), both of whom investigated the accident as part of the National Transportation Safety Board. They helped explain the chain of events that caused the crash, which was not the fault of the crew.
"I started to understand that it was a combination of things that came together and led to my dad's death," she said. "That helped me a lot, because I had been mad my whole life and looking to blame something or someone."
She also realized something else about Pereira and Feith.
"They had this special passion that wasn't like anything I had ever seen," Aguiar said. "It seems like so many people in aviation have that same drive and focus, and I am sure my father had it. I knew then and there that I wanted to be part of something like that."
Feith and Pereira recommended Aguiar start at Embry-Riddle.
When she returned to Central Florida, where the family had moved after the crash, Aguiar immediately enrolled in the M.S. in Aeronautics program at the Worldwide Campus and earned her degree in 2016.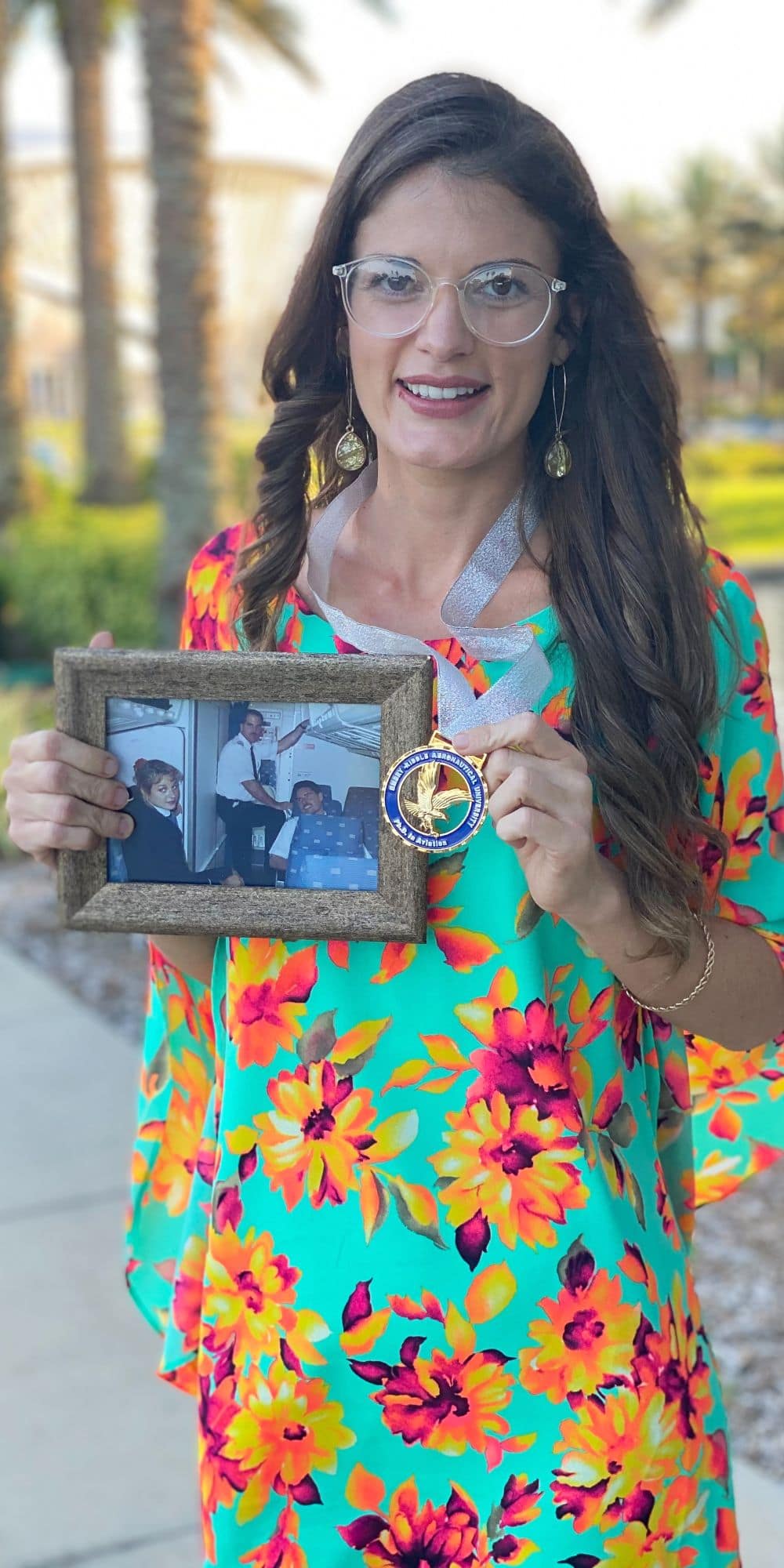 Marisa Aguiar shows her Ph.D. medal while holding a picture of her father (middle, standing), one of the pilots who died in the crash of American Eagle Flight 4184 in 1994. (Photo: Marisa Aguiar)
She even tried out learning to fly but decided that wasn't for her. Instead, she wanted to honor her father's legacy by focusing on research that advanced aviation safety and risk management with a special emphasis on Part 141, which governs flight schools and dictates pilot training.
"I found my passion," she said. "And I was in the perfect place to pursue it."
That passion for aviation safety research helped her earn a spot in Embry-Riddle's Ph.D. in Aviation program, where she was taken under the wing of Dr. Alan J. Stolzer, who is now Dean of the College of Aviation at the Daytona Beach Campus.
"He believed in me and gave me a shot," said Aguiar, recalling how Dr. Stolzer served as a guide and mentor. "I didn't have any real experience, just that passion, and he saw it and supported me all along the way."
That support included a role as a research assistant, which not only helped Aguiar mitigate the cost but also helped her learn the finer points of aviation safety research.
"Marisa was our first residential student in the Ph.D. in Aviation program," Dr. Stolzer said. "She studied on campus and worked alongside faculty conducting research, and I think that give her a richer experience as a developing scholar. Selecting Marisa for the role was an easy choice, and she set the bar very high. I can't wait to see Marisa's contributions to aviation safety in the future."
Aguiar received her Ph.D. in August and is now busy raising two small children in addition to working as an adjunct professor of Aviation Business at Purdue University Global. She is forever grateful for her Embry-Riddle experience.
"The name on the degree alone is enough, it still makes people go 'wow.' But it also offers so much opportunity because the university is deeply connected to the industry," Aguiar said.
Aguiar's longer range mission focuses on advocating aviation safety by remaining in academic settings, doing additional research, and making a "direct impact" on those going off to work on the front lines of aviation and aerospace.
"It's special because being part of this industry brings me closer to my dad's memory," Aguiar said. "Aviation is the only thing that we've ever gotten to share."