Eagle Finds Familia Away from Home at Embry-Riddle
Letsy Gonzalez ('23), president of the Society of Hispanic Professional Engineers (SHPE), reveals what makes the Prescott Campus community so special.
Letsy Dayana Gonzalez is a senior majoring in Software Engineering with minors in Systems Engineering and Cyber Security & Intelligence. Gonzalez is also president of the Society of Hispanic Professional Engineers (SHPE), an organization focused on empowering the Hispanic community and making a global impact through STEM.
"SHPE changes lives by empowering the Hispanic community to realize its fullest potential and to impact the world through STEM awareness, access, support and development," Gonzalez said. "SHPE's vision is a world where Hispanics are highly valued and influential as leading innovators, scientists, mathematicians and engineers."
The Prescott SHPE Chapter was recently awarded a National Chapter of the Year Award for their success in spreading the organization's mission in their community. Gonzalez believes the group's emphasis on the four core values of Familia, Service, Education and Resilience is the key to their success.
---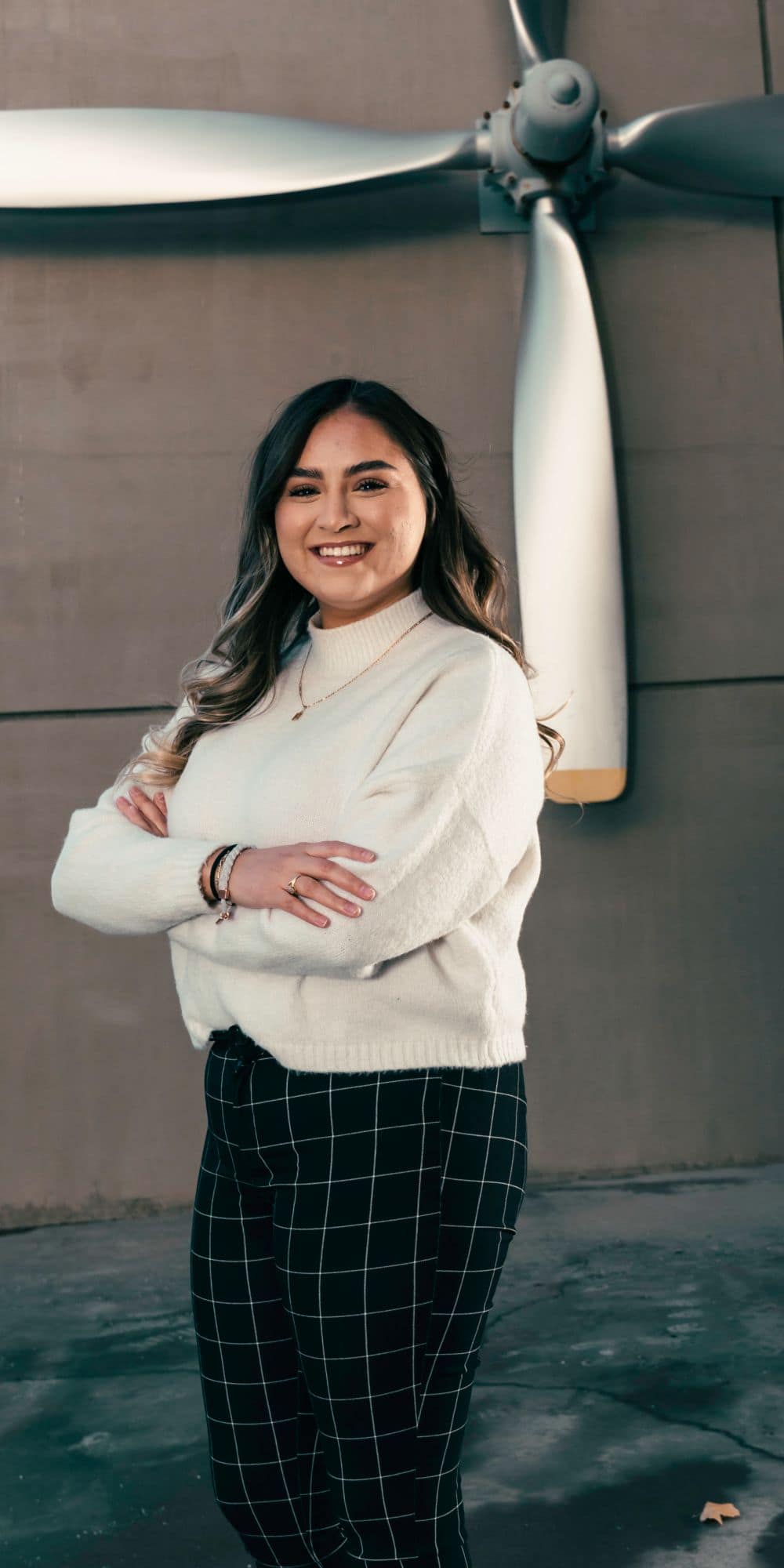 Letsy Gonzalez ('23) is prepared to graduate with a B.S. in Software Engineering in the spring before beginning her career with Northrop Grumman as a Modeling, Simulation and Analysis Engineer. (Photo: Embry-Riddle / Connor McShane)
What led the Prescott Chapter to be nominated for the SHPE National Chapter of the Year award?
"SHPE's National Chapter Award is the highest honor that can be bestowed to a chapter. This accolade is given to a chapter in recognition of the role it plays as SHPE's North Star. This chapter has reached a very high degree of excellence in showing all four of SHPE's core values: Familia, Service, Education and Resilience. They have continuously led and executed life-changing services and programs for the people in their community and serve as a model for the rest of the SHPE Familia. As a chapter, we were able to grow in various aspects of the organization which allowed us to develop into the chapter we are today."
How did you first hear about the SHPE and how did you join?
"Being a first-generation college student, I was looking for clubs or organizations where I was able to make friends as well as get to know people that might have similar interests. SHPE is a familia away from home, somewhere where you can grow as an individual as well as professionally to get you ready for the real world. Plus, you do not have to be an engineer to join or be Hispanic. It is open to everyone to join."
What did it mean to the SHPE Prescott Chapter to win this award?
"Being able to add another award for our SHPE Prescott Chapter was an amazing feeling. Being such a small campus and chapter compared to other universities, it was always something we would have never thought we would get. But after hard work and dedication from our board and our members, we were able to accomplish it. By adding the SHPE National Chapter Award we were able to acknowledge that all our hard work was completely worth it. Now we just strive to do our best each year."
What led you to major in Software Engineering?
"When I was accepted to go to Embry-Riddle I was planning on majoring in Aerospace Engineering. Then in my sophomore year I noticed that I had more of an interest in software and coding. So, I decided to change my major and have had such an amazing time learning more about what Software Engineering consists of and how I can apply this at my job."
What has it been like as a student at Embry-Riddle's Prescott Campus?
"Pursuing a degree in engineering as a young female here at the Prescott Campus is great because we also have other young females in our class. Due to the Software Engineering program being small, you can get to know your classmates pretty well, which isn't something seen in bigger universities."
What advice would you give to new students looking to join a club or organization on campus?
"I know that it is scary to get out of one's comfort zone. But once you do you can see how you grow in so many aspects and begin to blossom and take roles you never thought you would have done. Clubs and organizations are a great way to do that, which is what breaks the ice and might even encourage you to take a lead role in bigger projects."
---
Gonzalez has a bright future ahead as she prepares to graduate in the spring. After participating in an internship with Northrop Grumman for the past three years, she has secured a full-time position with the aerospace and defense company as a Modeling, Simulation and Analysis Engineer. She also aspires to continue her education by pursuing a graduate degree in the future. Yet, thanks to her experience with Embry-Riddle and SHPE, she feels prepared for new challenges and opportunities.
"I have learned so much being with SHPE here at Embry-Riddle," she said. "Thanks to the leadership experience within SHPE Prescott chapter and the work experience I have gained, taking a leadership role within my capstone group as a Test Lead Engineer was a smooth transition and nevertheless an opportunity to grow."