As She Competes for the Miss Arizona Crown, Electrical Engineering Student Works to Power a Brighter Future
B.S. in Electrical Engineering student Molly Ruley balances her love of engineering with her role as a contestant in the Miss Arizona 2023 Pageant.
Molly Ruley ('26) grew up with an intense interest in science and a passion for learning that led her to Embry-Riddle Aeronautical University's Prescott Campus, where she began her pursuit of a B.S. in Electrical Engineering degree in 2022.
In addition to being a talented aspiring engineer and an outstanding student, Molly is also the reigning Miss Yavapai County and a contestant in the 2023 Miss Arizona pageant. Although she is super busy, Molly took time out to answer a few questions about her Embry-Riddle journey, her goals for the future and two issues she wants to address through advocacy.
---
Why are you pursuing an electrical engineering degree?
When I got into high school and had to decide what I wanted to do, I did a bit of research into the different engineering disciplines. I also am a huge fan of shows like "Battlebots" and "How It's Made." I really like robots, so I wanted to go into something where I would learn how to make them. I decided on the electrical engineering side of the robotics track because I really enjoy putting together circuits. They are like puzzles!
What are some of your extracurricular activities on the Prescott Campus?
On campus, I was missing the community that I had in dance back home and in the pageant world. It was actually the former Miss Yavapai County [Embry-Riddle graduate student Samantha Ramos ('24)] who convinced me to go through recruitment. I met so many lovely ladies, and I found my home in Alpha Sigma Tau. Now, I have lots of opportunities for personal development, leadership, scholarship and friendship. Outside of my sorority, I am a part of the Society of Women Engineers and the student branch of IEEE on campus. I also sing alto in the Altitunes choir.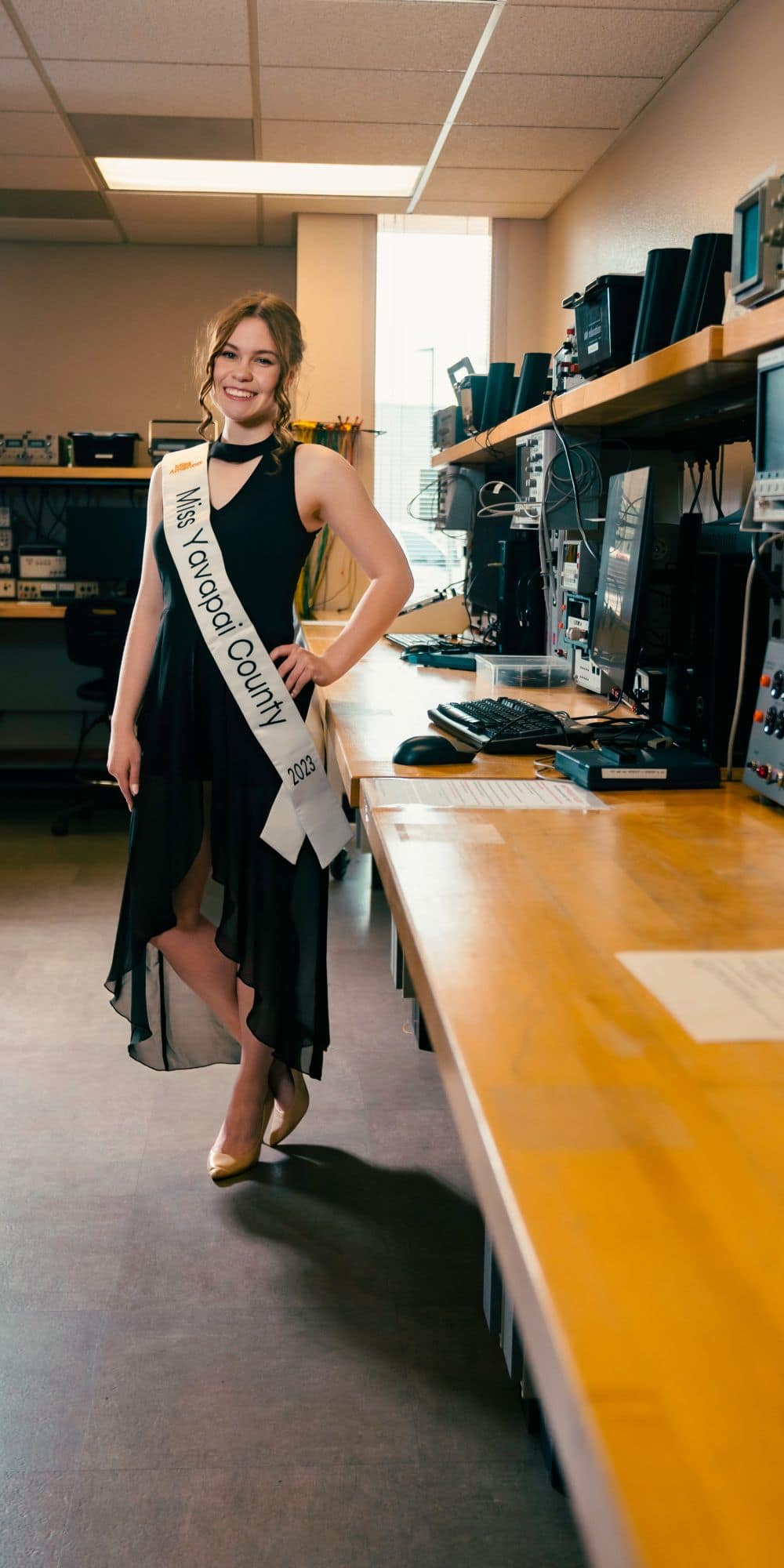 Molly Ruley will represent Yavapai County in the upcoming Miss Arizona 2023 pageant. (Photo: Embry-Riddle / Connor McShane)
What is your ultimate career goal?
I want to be a robotics engineer at a company that is pioneering the next level of technology, including artificial intelligence. I would love to be a part of designing our future in autonomous systems in order to make life easier. I would love to be spearheading projects that are at the forefront of innovation.
What issues are you most passionate about?
One of the issues that I am most passionate about is the arts, specifically in schools. I am an arts advocate because of my background in Irish dance and various other forms of art and all the opportunities they have given me.
The arts helped to form me as a person, and I want to see all kids be able to access the arts in schools and I want adults to have the same experiences with art in their communities. I volunteer at a kids' art museum back home in Mesa, Arizona, as well as at arts events as they pop up. Arizona does not get a consistent arts budget each year, which is why lobbying is necessary. I hope to be a part of more lobbying in the future.
Another issue I'd like to see better dealt with is the mental health epidemic that I see in my generation. College students, especially, struggle with mental health, which is why in all my interactions with others I am sure to be kind and courteous. Eliminating the stigma around mental health is something I care about since I see it affecting so many of my peers.
How do you balance schoolwork with your other obligations?
I pride myself on high academic achievement and on excellent social connections. It isn't easy to be an engineer and Miss Yavapai County, but with dedication and hard work, it's more than doable.
---
What could you do at Embry-Riddle? Apply today and find out!