Eagle Looks to Make Environmental Impact with Mechanical Engineering
Katie Rolle ('24) looks to apply her knowledge in mechanical engineering to combat climate change.
Katie Rolle ('24) is a Mechanical Engineering major who aspires to use her degree to fight climate change and develop strategies for sustainable energy in her field. A recent recipient of the Prescott Audubon Society's 2023 Environmental Scholarship, Rolle plans to use the scholarship to take the place of her on-campus job so she can dedicate more time to leading the Alternative Energy Association Club.
Rolle defined conservation as "more than preserving nature... [It] is about taking action to reduce the interference of man with the natural world, not for the advantage of man, but instead for the sake of nature so that it can thrive undisturbed in its own order and beauty."
"By earning a degree in mechanical engineering, I open the door for myself to progress numerous clean energy technologies," she said. "Including wind, solar, geothermal, tidal energy, hydropower and nuclear energy."
As a student at Embry-Riddle's Prescott Campus, Katie feels she is exactly where she needs to be to turn her aspirations into reality.
---
Why did you decide to pursue a Mechanical Engineering major?
I chose mechanical engineering because I knew it would open many different doors for me in the field of energy production. While I knew I wanted to go into the energy field, I was not sure which sector. I hoped studying mechanical engineering would allow me to discover what I was interested in and work in a variety of fields. I chose mechanical over my other top two options, chemical and nuclear engineering, because it was broader. I did not want to narrow my scope so early in my post-secondary education.
How did you learn about Embry-Riddle and what interested you about the Prescott Campus?
I learned about Embry-Riddle first through athletics. I was searching for smaller schools in the southwestern region of the US that had competitive women's volleyball teams. I wanted to move somewhere with more sunshine than my home city of Missoula, Montana. I was looking for small schools because I wanted a strong relationship with my professors and peers. Going to a school where academics were strongly valued by the student body was very important to me. I also knew I wanted to study engineering, so this narrowed my search as well.
I remember first looking at the Embry-Riddle athletics website and seeing the volleyball team was undefeated in [their] conference for two seasons, and that piqued my interest. After looking into the school even more, I saw that it was a very competitive engineering school.
What has your experience at Embry-Riddle been like?
My time at Embry-Riddle has been the most challenging, humbling and rewarding time of my life. College has been a true test of work-life balance. The amount I have learned about myself and the world around me is immeasurable. Embry-Riddle is a unique place because of the passion its students have for what they want to do, whether that be flying airplanes, building rockets, or anything else. I have been able to find people here that match both my academic and social motivations. I have also met some incredible professors that would do anything for their students.
How do you envision using mechanical engineering to make a positive impact on the environment?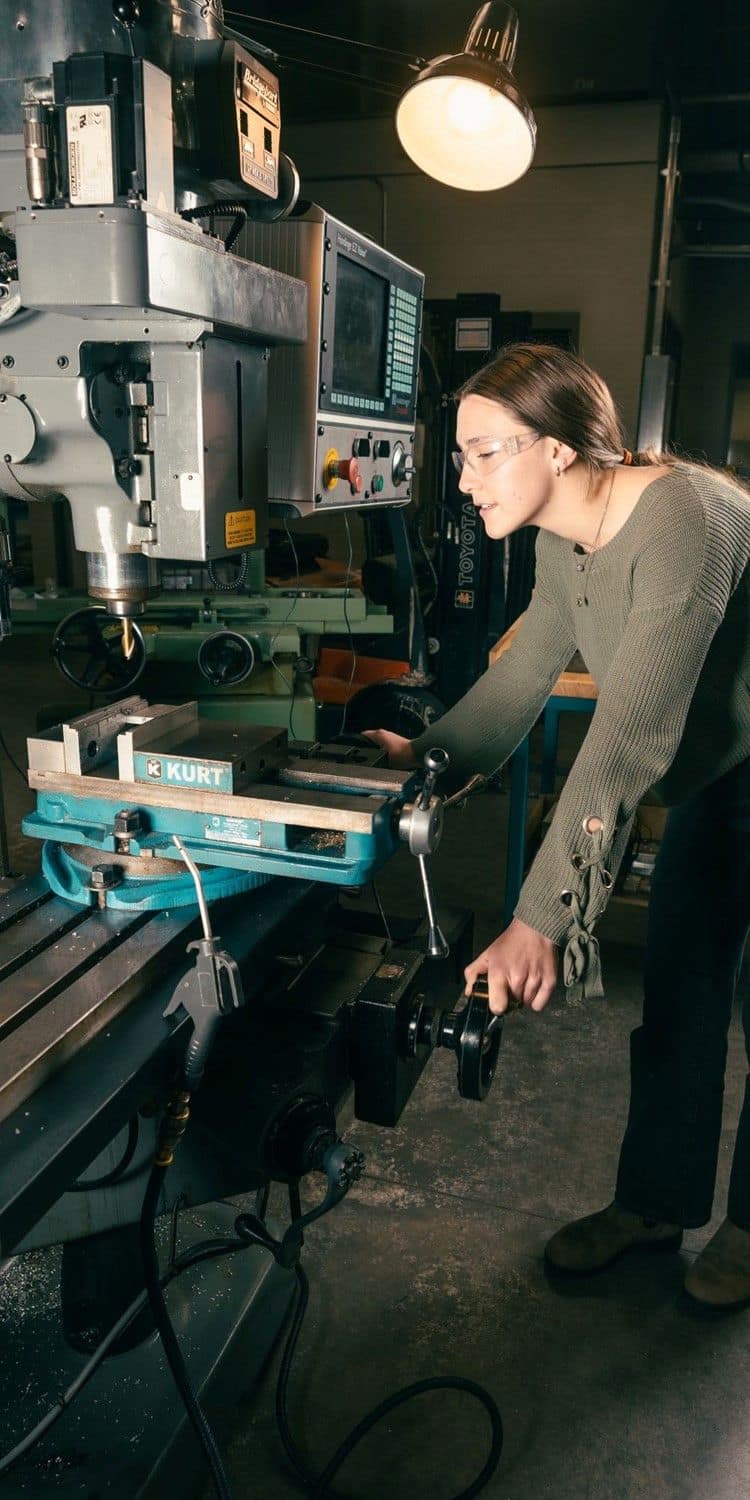 Katie Rolle operating equipment in the AXFAB lab on the Prescott campus, (Photo: Embry-Riddle / Connor McShane)
Conservation is about reducing our impact on the environment and allowing it to thrive on its own. The benefit of this is twofold: first, the environment is able to thrive the way it was intended to; and secondly, we get to see it and enjoy it. This is important to me because I care about preserving not just the planet but the people on the planet. Without a healthy ecosystem where people and nature can live harmoniously together, life on Earth is not going to last.
There are many ways that I could have chosen to make an impact in environmental conservation. I chose mechanical engineering because I want to work on reducing the greenhouse gas emissions of the energy sector. The energy sector is one of the biggest contributors to greenhouse gas emissions, alongside agriculture. By studying mechanical engineering, I can work in a variety of alternative and renewable energy technologies. I am most interested in nuclear energy, and I hope to share with others how important using nuclear energy is to reducing human's carbon footprint.
How did you join the Alternative Energy Association (AEA) on campus?
One of my teammates who was also studying ME-Energy told me about AEA back in the spring of 2020. I honestly was not a very active member when I first joined, busy with school and volleyball. It wasn't until I realized if I did not step up into a leadership position, the organization would potentially die.
I decided to run for president and was elected in the spring of 2022. I restructured the format of our meetings to make them more social and educational. When I started, we probably had 8 to 10 active members and now we have upwards of 20 people at every meeting. It's a positive community, everyone is very accepting. We pride ourselves in being an inclusive club, not exclusive. We encourage people to come when they can but there is no expectation or requirement of our members, so they can be as involved as they want to be.
What are your aspirations for the future, after graduation?
After graduation, I hope to continue working in the nuclear energy industry. This summer, I will be working at Palo Verde Nuclear Generating Station outside of Phoenix where I hope to gain a better understanding of the industry to aid my decision in attending graduate school or not.
---
To Rolle, the most important key to her success has been the support she receives from family and friends.
"I would not be where I am without the people that have helped me get here," she said. "I need a lot of support from my friends and family to do what I do. If I did not have these people to turn to, I would not be able to do any of these things."
Her best advice to new students: don't lose sight of your values.
"Remember what is important to you and what you value," she said. "Let that be your drive. Equally important is to surround yourself with people who support you, and that you support in return. College is not easy, especially when you're getting an engineering degree at Embry-Riddle. There will be times when you feel like you can't do it anymore, so when those moments happen, remember why you are here and turn to the people who are going through it with you."