Undergraduate Research and Discovery at the Prescott Campus
At Embry-Riddle's Prescott, AZ, campus, we are committed to providing students with opportunities to engage in hands-on, faculty-led research in their chosen fields. From aviation to engineering, business to forensics and beyond, our students have access to a wide range of research projects that can help them develop the skills and experience that employers are looking for.
Embry-Riddle's Prescott Campus is home to the Undergraduate Research Institute (URI), whose mission is to promote hands-on student research at the undergraduate level. The URI provides more than $100,000 annually in funding for student research and development and in competitive-based grants, including our Eagle Prize (or E-Prize), funding teams of students to develop material and attend competitions around the world.
Students participating in undergraduate research benefit from many academic and professional advantages, according to Space Physics alumna Sophia Schwalbe ('17), who continues to leverage her undergraduate research in her post-doctorate studies.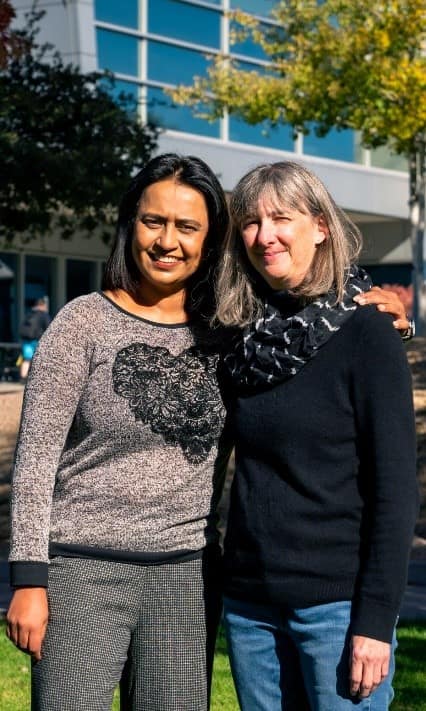 Dr. Anne Boettcher (right) and the URI hosted Dr. Anisa Vahed (left), a Fulbright Visiting Scholar and faculty member at Durban Institute of Technology, who's Fulbright Research focused on advancing undergraduate research by embedding it into course curriculum. (Photo: Embry-Riddle / Connor McShane)
Dr. Anne Boettcher, Ph.D., Director of Undergraduate Research Institute for the Prescott campus, assists students in strengthening their resumes and research skills by connecting them with grants, funding and faculty experts. Dr. Boettcher shared a few of the insights and experiences she's gained as Director of URI, and the benefits that students can expect in return for pursuing their own undergraduate research.
---
What is the mission of URI?
The URI promotes research, scholarly and creative activities at the undergraduate level. By enhancing critical thinking, problem-solving and communication skills, URI helps to prepare Embry-Riddle students to contribute as productive individuals, employees and citizens. We facilitate interactions with industry and community partners as students build their professional network. URI is university-wide and invites students and faculty from all disciplines to participate.
What do students gain by developing their own research as undergraduates?
Students who participate in undergraduate research gain hands-on research experience. They strengthen their resumes and build key skills that industry is looking for. The National Association of Colleges and Employers career readiness competencies include communication, critical thinking, equity & inclusion, leadership, professionalism, teamwork and technology as vital to students' future success, all of which can be gained by participation in research.
How is research at Embry-Riddle different from other universities?
Due to its unique focus on aviation and aerospace, research opportunities afforded students at Embry-Riddle are unique. For example, our Rocket Development Lab allows students to move from early-stage design and fabrication of rockets through test fire and launch, with the capabilities of the test cells being unique among undergraduate institutions.
What have been some standout projects you've seen during your time as director of URI?
I am continually amazed at what our students accomplish and how they contribute to the community. Some of our current projects include our second CubeSat (EagleSat2), which is preparing for launch in 2023; the development and implementation of a cyber competition (CyberAero) for regional high school students; testing of improved training approaches for English to second-language pilots; and astronomy research on a high-mass X-ray binary and its evolution, which will be published in the prestigious journal Nature.
What advice would you have for high school students interested in research?
The best advice is to be open to the opportunities offered both in high school and as you transition to college. Research is for everyone and even if you do not think a specific project will help move you towards your career goals or that you are not qualified, you would be surprised at how the diversity of what you experience can open new opportunities.
Incoming students should attend our Student Organization Fair to see what types of research is going on with student clubs, make an appointment with the URI to discuss additional options and meet with faculty to talk about research they are conducting.
---
Would you like to learn more about research opportunities at our Arizona Campus? Visit the Undergraduate Research Institute to learn more.